It's No Secret: Five Things I Learned About Carmen Bryan - 4:46 p.m.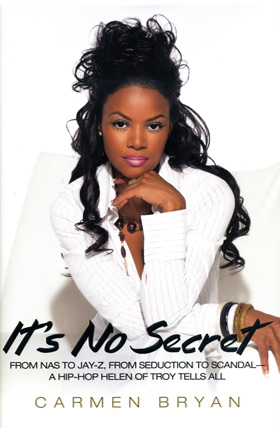 1. Even Men That Don't Know Her Fight Over Her Stuff

"Nope. It's sold out," the bookstore clerk said looking at the computer terminal. He gives me a smirk like, 'you're reading that crap?' Hey, I can't believe it myself. The chance to grab it 1/2 price had a lot to do with it, but now I want to read it so I'm resigned to having to pay full price for it at B&N.
On the way out Jon Leguizamo's "Pimps, Hos, Playa Hatas, and All the Rest of my Hollywood Friends" caught my eye. Shrugged and took it as a consolation prize, guess I'll read this crap.
Five steps towards the register and the same clerk runs from behind a display case, "Hey, wait!" He walks up to a guy with.. the book. "Is this it?," he asked. "Yeah." Snatches it out of the guy's hands and gives it to me. The guy is standing there dumbfounded. I'm thinking, that's really fucked up. Store clerk smiles and starts straightening some books, "it's yours." I look at the bookless guy, still holding his hands in the air. "Were you buying it?" I asked him. Store clerk jumps in, "No he wasn't, take it." Looking at the guy again.. he says, "If I touch it again, I'm keeping it." I'm trying to figure out why dude straight ripped the book from his hands to give it to me.. but dude's not about to touch it again. And then you say to yourself.. if he did would we really be fighting over a book?
A lot like Nas and Jay-Z, if you have Carmen tell it, their rap battle was really about Jay-Z wanting her. Little comments to dig at Nas' spine. When she accepted Nas' engagement ring Jay's jealousy flowed over and as the baby seat line showed, got out of control. It's yours, it's mine. It's yours.. Yeah, it's mine. Bookless guy worked there, he was reading on store time.
2. Not a Groupie or Video Chick

She mentions this in the book, "Nas, you made me seem like a groupie you met in the club and knocked up on a humble." People tend to think that she jumped on Nas when the records (singular?) went platinum. I was one of them. Turns out she knew him before Illmatic dropped, before he was a star and once lived with him and his mother in Queensbridge projects. Inviting a friend over to see the tube sock dish rag and roach frozen in the ice tray, sticking with him through the struggle and lethargy, her friends saying he didn't have any money, a nothing, while she was working and paying bills.. that's not a groupie chick.
3. Iverson Wore It Out, Jay-Z Calls Her Name, Wood Harris Not So Much


When Jay-Z delivered the 1 album every 10 year average line, many of us nodded our heads, but Carmen really puts it into perspective when she talks about Nas' studio habits and penchant for hanging out with his people. He comes off as talented but unfocused, possessive, jealous and generally a real prize for Kelis. They fought constantly, he's dealing with fame and money in and outs, all that going on how could he be making classic albums? A lot of his hanging out was probably Dr. Knockboots getting his degree.. Carmen said Nas wants to live by his father's creed, "The only time two people are obligated to be committed is when they are married. Goes for a man or a woman. In other words, if you're not married, it's cool to do your thing." That's Nas' father talking.
So when she suspects Nas of cheating.. she did hers, Jay-Z, AI, *insert names left out*
Nas cheating or not, she did a whole lot of cheating and lying of her own. While she's pissed off about Foxy Brown and Wendy Williams airing her 'relationship' with Allen Iverson on the radio, bringing Nas into the 'shit ain't true, what a bitch' chant.. whenever Iverson was in town (or called) she was tripping over shit to get to the hotel for another 6-7 round session. "I needed a battery to keep up with the energetic Bubba chuck." Funny thing is she made a comment about Iverson turning out to be an asshole at the end of the day. He knew he was hitting Nas' girl. What did she expect? To him she's this week's jumpoff.. 'Where do we play on Saturday?'
Did she purposely try to make Jay-Z sound like a big ol softie? Got out the whip cream and he was calling my name; playing snuggle bunnies and 'boo berries'; acting confident but has a lot of insecurities and was completely crushed when she told him she was gonna marry Nas. As she tells it, Jay thought she would leave Nas and they were gonna get married. Sex or not, she liked the annoyingly referenced SC as a friend. She's probably just spitting the truth about any quirky (human) behavior, their times together sound like what you'd find behind doors with Jay-Z and 'bad breath' Beyonce - that was a stab, no doubt. Read the book. She also mentions running into Wood Harris on some road and the brief time they spent together. He's the 'free/spiritual' perfect compliment to her personality. Kinda like a shout out, "Hey, call me.".
4. Hasn't Worked Since..

While Nas was still Nasir she worked at Def Jam and then Capitol Records somewhere along the line she stopped working and Nas seemingly paid for rent, car notes and eventually child support. Their relationship crumbles, he's with Kelis, still wants and is messing with her though (Carmen/Kelis sandwich).. and she's still depending on him for money. Child support is one thing, but I'm flying into a rage when she's talking about her rent and the car note he never paid. Can someone say J-O-B? After hearing about her Def Jam start, I expected she'd talk about some new and better position in the industry she's currently holding down. Maybe she is doing something now, but it wasn't mentioned. With store clerks walking around reading the book on the job, she's definitely gonna have book royalties to flip through and maybe her acting/screenwriting dream will materialize. Curtis Jackson might be able to help there as he does his own Hollywood hobnobbing.. check the acknowledgements. "I'd like to especially thank 50! Your words of wisdom, kindness and encouragement made this all possible."
Any surprise he's aligning against his 'enemies' and her enemies aligned against her?
5. A Bitch With A Problem


In an off-the-cuff moment Carmen mentioned that she and a guy named Hasan collaborated in a rap group called Bitches With Problems."Hasan decided to form a female rap group. Of course his position was to play the back. We called ourselves BWP. Hasan knew that I couldn't rap, but he insisted that my look was marketable, so I just went along with it. Our image was supposed to be a hard-core group, but my delivery wasn't giving that impression. I sounded more like Molly from AT&T customer service or something. I just wasn't making the cut. We hung in there as long as we could, but the group eventually broke up and that was the end of may rap career."
Anyone that knows a thing about late 80's - early 90's hip-hop heard and loved "Two Minute Brother." That was a hot record. I didn't buy it - one of the blank spots in the collection. Looking around the web there were no group pictures (or YouTube videos) either. I have an old Source magazine laying around somewhere, but that found web picture will have to do for now.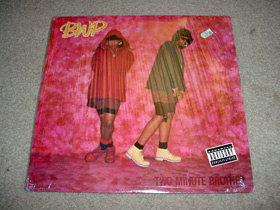 I'm thinking that she's the chick in red. The girl with the Timbs did most of the rapping though.
Check it out or if your roots run deep, rap-a-long, or don't it's completely uncensored - "Two Minute Brother" (MP3 7.2 mb)

$item = "comments/carmen_5things.txt"; $counter = 0; $counter = howmany($item, $counter); if($counter == 0){echo "";} if($counter >= 1){echo "";} ?> | permalink