Jamaica's fastest man alive, Usain Bolt won his third gold medal today. He ran the third leg of the men's 400 meter relay, with his teammate Asafa Powell, who's record Usain broke in the 100 meter relay, closing the race. Needless to say, it was as easy as all of the other races.
With the win Usain Bolt became the fourth person in the history of the Olympics to win the 100, 200 and 400.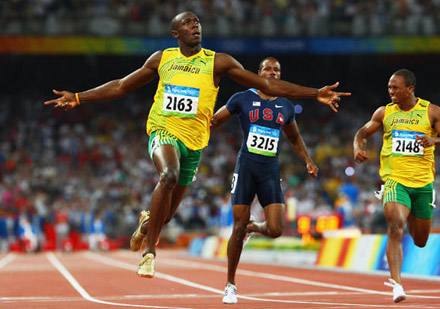 Last Saturday we all watched the way Usain Bolt won the 100 meter relay: sprinting half the length and jogging to the finish, all while pumping his chest and freezing for the "Bolt" << take a picture.
He repeated it in the 200 meter race. And here we have him once again. Never mind the braggadocio some people are grumbling about, he's a young Jamaican dude with a mother who admits she likes to party: it's in the blood. After today's 400 relay Usain Bolt defended his on track antics..
more..
|
permalink