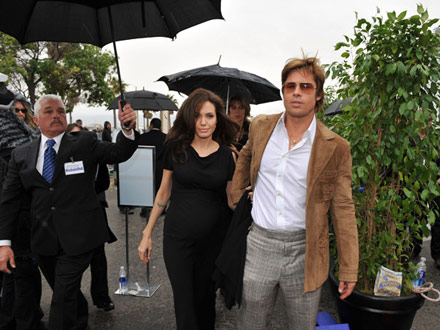 Angelina Jolie, the twins, and Brad Pitt made the rounds last week at the Indy Spirit Awards - looking every bit the movie stars they are. Angelina Jolie is fresh off a trip to Iraq, where she went to get a first hand look at what she calls a humanitarian crisis: two million people have been displaced in the fighting over there. Angelina Jolie's concern is the lives of ordinary Iraqis caught up in the mix.
She spoke to CNN earlier this month and wrote an editorial in today's Washington Post "Staying to Help in Iraq", continuing the push for awareness on the issue, but it could also play a part in who people choose in the election.
Iraq is a big problem going forward: financially it's unsustainable for the United States; at the same time, pulling out rapidly as Hillary Clinton and Barack Obama are talking about seems risky. It's one thing I'm currently waiting for Obama to clear his position on further - John McCain isn't an option (he doesn't have any domestic policies that veer off the Bush path) so it won't change my vote.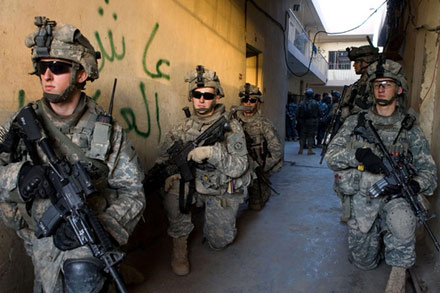 Rolling Stone says the surge isn't working: "The Myth of The Surge."
John McCain says it is; and Angelina Jolie seems to agree.
She hasn't endorsed anyone yet, but the editorial in no way gives the feeling she thinks a pull out of Iraq is a good idea.
Today's humanitarian crisis in Iraq—and the potential consequences for our national security—are great. Can the United States afford to gamble that 4 million or more poor and displaced people, in the heart of Middle East, won't explode in violent desperation, sending the whole region into further disorder?

What we cannot afford, in my view, is to squander the progress that has been made. In fact, we should step up our financial and material assistance. UNHCR has appealed for $261 million this year to provide for refugees and internally displaced persons. That is not a small amount of money—but it is less than the U.S. spends each day to fight the war in Iraq. I would like to call on each of the presidential candidates and congressional leaders to announce a comprehensive refugee plan with a specific timeline and budget as part of their Iraq strategy.

As for the question of whether the surge is working, I can only state what I witnessed: U.N. staff and those of non-governmental organizations seem to feel they have the right set of circumstances to attempt to scale up their programs. And when I asked the troops if they wanted to go home as soon as possible, they said that they miss home but feel invested in Iraq. They have lost many friends and want to be a part of the humanitarian progress they now feel is possible.

It seems to me that now is the moment to address the humanitarian side of this situation. Without the right support, we could miss an opportunity to do some of the good we always stated we intended to do.