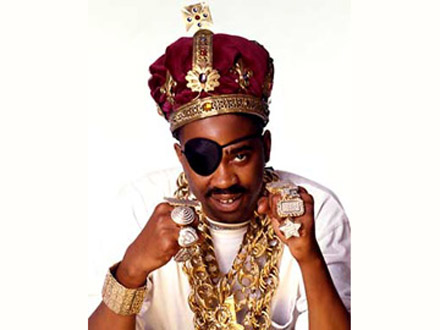 Can you believe that Slick Rick is still being hunted down by the INS?
I know I'm going old school here, but it's a classic tale of the ignorance of the legal system. In many cases people are lumped into categories without regard for the specifics of a case. It's word for word, line by line, no exceptions to the rule.
I'm generalizing too… because I'm really thinking of divorce settlements when I say that. Otherwise known as The Raping. That's a story said, I'll repeat it another time.
A story in the Village Voice "Slick Trouble" does a great job digging up the details of his case from start to the present.
My own little spin and summary..
Slick Rick's contribution to hip-hop consists of one album, "The Great Adventures of Slick Rick" and one single, the Dougie Fresh collabo "La-Di-Da-Di." The quality of those records are more than enough to get him a golden microphone on the Hip-Hop Walk of Fame. Doesn't exist. Maybe they should section off a slice of concrete on Sedgwick and Cedar.
Beyond the music it was his eye patch, outrageous jewelry and swagger that let you know he was in the room. Busta Rhymes tried to recreate the thousand chain, rings on all fingers look last year, looking just foolish and out of character. When Slick Rick did it, he was at the top of a select few.
There were other people like Biz, Big Daddy Kane, Kool G Rap, Rakim's crew, LL and drug dealers who had the money and balls to leave the house with that kind of metal around their neck.
But if there was a *bling* poster child for that era it was Slick Rick.
No one is invincible though, sizzling steak dropped in a cage of hungry wolves is gonna get snatched up.
Slick Rick decided to hire bodyguards to protect himself from stick-up kids.
"Living by myself, making records, and my name already being known all over the place, I felt I would need a little protection of some sort," Slick Rick G-tag Ricky Walters testified at a later date.
One of those people was his cousin Mark Plummer. Ironically his cousin would be the one to cause him the most trouble. Plummer didn't want a job, he wanted fast money and saw Slick Rick as the source. He started demanding extra cash and tossed threats. Slick Rick fired him, giving him $3000 in severance to calm his anger. That's when the wolves bit.
"Then all type of strange things was happening," Slick Rick said. "I was getting robbed. People ran into my house, tied me up, and beat me - pistol-whipped."
One night outside a Bronx nightclub some guys walked up to him and said they "wanted him," then proceeded to fire 20 shots at his jeep. Hitting Rick three times and sending his female passenger and a bystander to the hospital.
When released Rick bought a gun.. actually multiple guns, five of them, including a sawed-off shotgun. He carried at least one at all times. His friends thought he was overreacting and a little bit crazy.. meanwhile his cousin told him that he set up the 'hit' and that he wanted money. Slick Rick was being exorted. He said he was afraid to come out of his house, but one day he and his pregnant girlfriend went out to do some shopping.
After grabbing some Chinese food, they drove down White Plains Road in the Bronx, Rick saw his cousin coming out of a store and decided to end the bullshit. He pulled out a Davis .380 and popped 4 shots. Two missed and hit a bystander. Two hit his cousin in the leg.
Rick sped off, with police on his tail. He got on the Bronx River Parkway, misjudged a turn and crashed into a tree. It was a real-life scenario of his song "Children's Story."
A scenario that got him six months to 10 years in jail. He served two years and was released.
It looked like he would be able to breathe some life into his flattened rap career but Immigration came knocking. The British-born rapper was now a convicted criminal and under the law he had to go home for good. Kinda like.. what Naomi Campbell may face.
Like Naomi, Slick Rick is not exactly about to go on a killing spree.
Slick Rick overreacting or not, had reason to fear for his life.. he'd already been shot and pistol whipped, with the promise of more to come. He also served time for trying to care of it himself.
The INS didn't care about any of that.. they saw him as a menace to the country.
Year after year, appeals were made and won, it was looking good for him. In 2003 a New York judge told him he could stay in the country. But INS officials pissed that they had lost the case so many times, dug deep for the fine-print on a legal rule that threw out the appeals of the New York court. They said he should be tried in Florida.. where they just happen to be more conservative and tough on these kinds of things.
16 Years Later…
Married and the owner of three homes in the Bronx. He awaits the Florida court's decision. In the meantime he's changing light bulbs, taking out the garbage, and making sure the hallways are clean in the buildings he owns.
"I play the landlord role," he says. "I guess the hardest job is that sometimes, when a tenant moves out, you have to redo the entire apartment. Change the rugs, the sink, everything. That can cost a pretty penny. Sometimes you get bad tenants. Then you just have to follow the lease."
Kinda of a sad decline from his flashy days. His wife describes him as "just above water with regards to celebrity."
As far as music.. "I have a little studio in my apartment, and I dibble and dabble," Rick says. "But when you get older in rap, you don't want to talk about the same old stuff. You really don't want to sound like somebody trying desperately to stay in the country all the time."
Very soon he expects to be deported and told never to come back.
Not a thug or gangster. Just a well-known rapper trying to protect himself, however reckless it may have been. You really have to take that into consideration.
Oh yeah, that cousin.. he was never charged with anything, but a short time later he broke into someone's house and raped a young boy.
The boy's father put an end to his life.
Justice on one end. Injustice on the other.
"Do you see the logic now?", Rick asks. "We're talking about something that happened 16 years ago. I've spent more time fighting Immigration than my actual crime itself. I've spent more time in prison not for committing the crime but for fighting to stay in America."