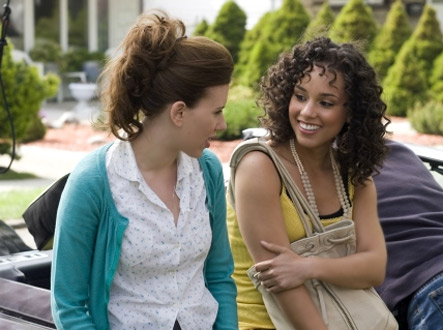 With Alicia Keys' participation in causes deep and meaningful (
Keep A Child Alive
,
Live Earth
and
helping to push
G8 Summit leaders in the right direction) she looked real happy to kick her shoes off at the BET Awards. A little time out from work. You saw her on that stage, full of energy, "Come on people.. you having fun?".. Speaking for herself on the low. Truly a night out for Miss Keys. Come sunrise it's back to work in the studio and then getting that smile ready for the publicity mill. Alicia Keys is close to finishing her next album "As I Am," set for an October 23rd release date, you should be hearing an appetizer in the coming weeks. Oh wait, this is the appetizer. A cell clip of Alicia Keys singing a song called "Super Woman" has been leaked to the net. It's been around for two weeks or so, Krucial Keys..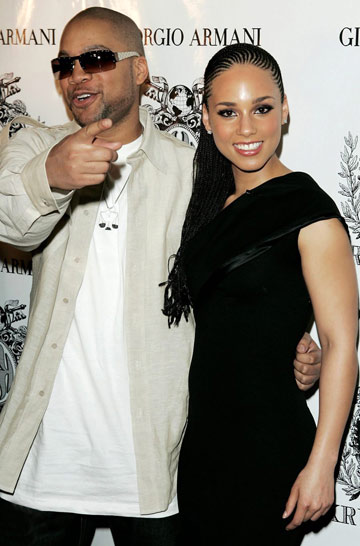 just posted it yesterday, so I guess it's now officially leaked. << things I find funny. Sounds like classic Alicia Keys material. That picture up top is from her next movie The Nanny Diaries, in theaters September 7th. Alicia Keys plays Scarlett Johansson's friend, Lynette, Scarlett Johansson is the nanny. Now I know there are plenty of white nannies pushing strollers around the city, and the movie is based on a book of real life sketches by a former nanny, who happens to be white, so there is nothing odd or slighty about the roles. However, Alicia Keys playing the friend is what I also like to think of as smartly sidestepping the stereotype. That's all we needed, was to have Alicia Keys pushing an even lighter and brighter baby down the sidewalk talking about,
"I'se so tired!"
Yeah, let's leave that for the next sketch comedy show.