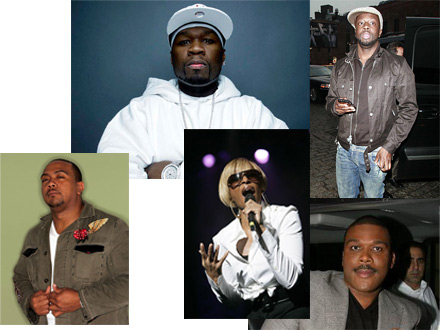 As part an ongoing investigation of steroid distributors around the country, the names of any of the tens of thousands of people discovered to have received steroids could potentially be exposed to the media. So far baseball has been hardest hit by the investigation, but wrestlers, police officers, football players and body builders have all been fingered in the last year. Today the Times Union revealed that some of hip-hop and R&B's finest have also allegedly received steroids. They would be: 50 Cent, Timbaland, Mary J. Blige, Wyclef and film director Tyler Perry.
None of them have been targeted for breaking the law. Law enforcement is focusing on the distribution network, which has resulted in ten guilty pleas, including convictions of three physicians and the operators of anti-aging clinics in Texas, Florida, and New York.
The current focus is on a company called Signature Pharmacy based in Orlando, Florida. The husband and wife team that run the company are awaiting trial. Albany County District Attorney David Soares described them as "living the lifestyle of the Tony Montanas of the '70s and '80s because they're drug dealers."
The investigation is based out of Albany, NY, which is probably how one of the city's papers, the Times Union, was able to get a close source to reveal the above named celebrities.
District Attorney Soares declined to confirm any information about them, but there is more than just a name and a finger point. Here are some of the claims made:
50 Cent
Allegedly received a package of steroids under the name of "Michael Jordan" at his mansion in Connecticut in July 2006, a spot he has on Oakmont Drive in Los Angeles, and a chiropractor's office in Long Island, NY. The chiropractor has a number of celebrity clients.
Mary J. Blige
Between August 2005 and January 2007 Mary allegedly received shipments from an Orlando pharmacy of Jentropin, a human growth hormone. Oxandrolone, an anabolic steroid was sent to her at The Beverly Hills Hotel, the MGM Grand in Las Vegas, and the Clay Gym in NYC.
At least one of these packages was mailed under the nickname "Marlo Stanfield."
Timbaland
Allegedly received human growth hormone and anabolic steroids between October 2005 and September 2006 at his home in Miami and at a chiropractor's office in Long Island, NY.
Wyclef
In 2005 prescriptions of growth hormone and Oxandrolone were sent in his name to.. *drumroll* a chiropractor's in Long Island, NY.
Tyler Perry

In 2005 and 2006 shipments of anabolic steroids and human growth hormone were shipped in his name to his studio headquarters on Krog Street in Atlanta.
——
Again, all that laid out, no criminal investigation of any of them has been reported.
There will be lots of fractured stories floating around the web, but the original four page story Steroids Beyond Sports" deserves a look.
As an aside, that article also mentions Sylvester Stallone, better know as Rocky or Rambo (whichever character you liked more). In May 2007, he paid a $3000 fine in an Australian court to settle drug possession charges against him. Customs found 46 vials of human growth hormone in his luggage. He admitted he takes human growth hormone to repair his damaged tendons and fragile bones.
Have you seen Sylvester Stallone lately?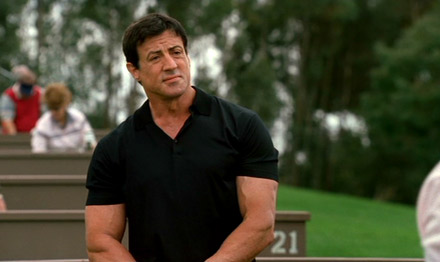 He was in an episode of Las Vegas and looked far from having fragile bones.
I can't think of any reason Mary would use steroids, nor Wyclef or Tyler Perry.
We all know 50 Cent looked extra puffy in the early G-Unit days and one of his ex-associates flat out called him a steroid monster on a mixtape; these allegations also raise questions about Timbaland's suddenly rock solid physique.
Did I say they've just been named, not charged? Ok.