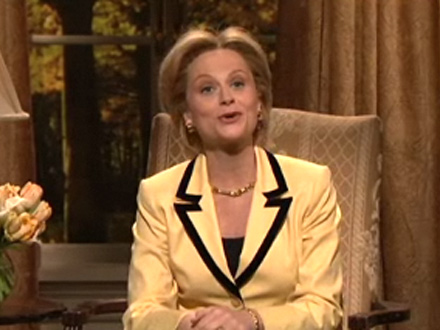 Saturday Night Live jumped in the Hillary Clinton beatdown this weekend. Amy Poehler started the show with her spot-on Hillary Clinton impression. "Hillary" said she's still in the race because she's a sore loser, her supporters are racist, and if she gets the nomination, she'll use the sexist and racist cards against John McCain - because she's just that ruthless.
As much as I don't want Hillary Clinton to be the Democratic nominee, all of this stick swinging at her head, telling her to sit down and fall in line, only hurts Barack Obama's chances to pick up support from her Hillbots (is that what they're called?) in November. People that Barack Obama will need in order to win.
Ignore her dumb comments about "hardworking.. White americans." Hell, if I was White I'd be mad that she thought of my support as the "uneducated White vote." Educated people know that.
Let her campaign flame out on its own. She has no way to win.
But kicking her in the ass as she waves goodbye is not the way to unite the party.