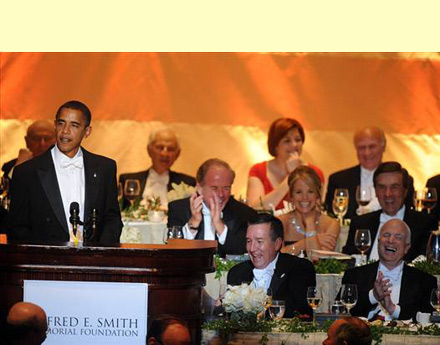 Last night cable news shows interrupted their scheduled programming to show live footage of Barack Obama and John McCain hurling jokes at each other. It was a roast em' up at the Alfred E. Smith Memorial Foundation dinner in New York. It was like something out of the Twilight Zone. One day they're smashing each other, the next it's joke time with the buddies. Why wasn't this publicized ahead of time? An Obama/McCain Roast would have gotten more attention than that last debate.
They both killed; the best comedy comes from truth. No wonder John Mccain hit with the Bill Clinton sure is pushing hard for.. me stuff. Here's the Obama side of the roast..
Barack Obama "Comedian" - Alfred E. Smith Dinner
If you ever meet Barack.. call him Steve. He'll love that.