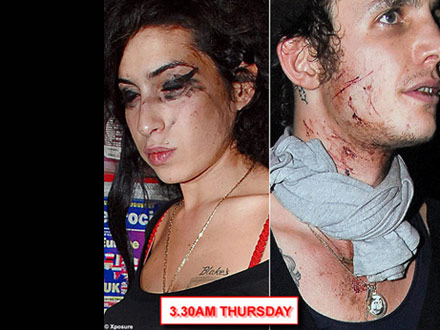 Talent aside Amy Winehouse has a nasty cocaine and heroin addiction.
After a fight that went from a hotel room to the streets of London, Amy took the blame, saying she got caught doing drugs with a hooker/call girl and just lost it.
She text'd an explanation to Perez Hilton..
"Blake is the best man in the world. We would never ever harm each other… I was cutting myself after he found me in our room about to do drugs with a call girl and rightly said I wasn't good enough for him. I lost it and he saved my life."
What?
The story begins here.
On Thursday Amy and her husband Blake were staying at a London hotel. Around 1 in the morning the sounds of passion were overheard by some of the guests: think shouting, furniture bumped into the walls, fuck yous and bitches, without the sexual part of that visual. Earlier in the evening Amy was seen walking outside the hotel where she met a woman. They hugged and the girl slipped her a lil baggy.
Amy returned to her room and a few hours later the shouting and furniture bumping was heard. The hotel manager was called to calm things down. You know what happens.. "Oh, we're fine."
Around 2:30 the fighting started again. This time Amy was seen running down the hallway, her bleeding husband in pursuit. They jumped in an elevator, Amy's bunched in the corner, crying, tears flowing. They're shouting at each other and an eyewitness thought Amy was going to get hit.. again. The elevator opened and Amy took off. Her husband caught up with her at the hotel entrance.
Daily Mail's got you covered with rest ..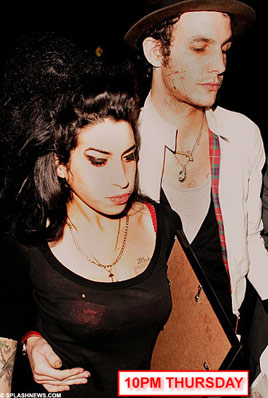 Long story short, by late Thursday peace was in the air. Amy's father has checked into the new hotel Amy's staying at. Blake's family is set to join them as they try to.. get her to go to Rehab? Yes. Yes. Yes.
In two weeks Amy Winehouse is scheduled to perform at the MTV Video Music Awards, we'll have to see if and how she'll pull that off.