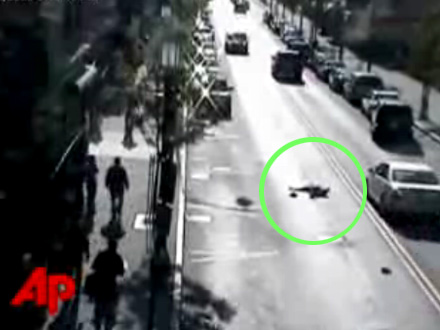 Connecticut police have released video of a man being hit by a car. Angel Torres was walking across the street (yes, he was jaywalking) when two cars veered into the opposite lane. The drivers were more in the wrong then he was, they were headed into oncoming traffic. It looked like some kind of road rage incident going on between them.
The second car smacked into Torres. He flew into the air and landed flat on his back. Neither driver stuck around, they cut the corner.
As terrible as it was, hit and runs aren't anything new.
What's sick was the people that saw this man laying in the street and did absolutely nothing to help him.
Cars drove by, people walked right past his body, one car pulled out of a parking spot right across from him. And some kid dipped over on a scooter, looked at the scene, and continued down the street. The collective attitude is.. Oh well, I got things to do.
Yup, this is the world we live in.
People did start to cluster, but nothing in the way of showing real concern. Apparently no one even called 911. The police car that pulls up was responding to an unrelated incident. That's where the video ends.
Angel Torres is now paralyzed.