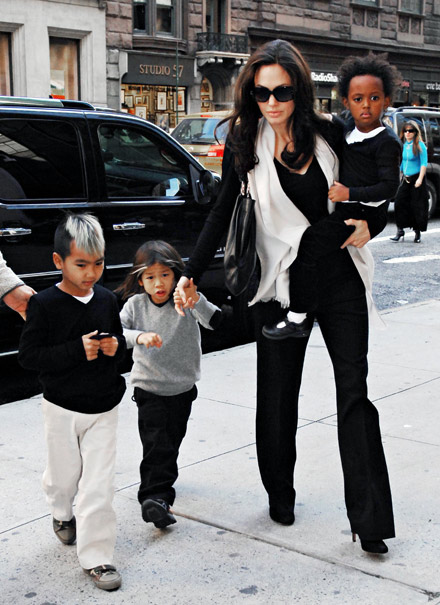 Angelina Jolie was in New York last Saturday with her adopted multi-cultural familia. Culture would be the right impression, they were going into Lee's Art Shop. Angelina Jolie was also in town to promote her part in the Clint Eastwood directed The Changeling. She plays a mother who's kidnapped kid is returned home, problem.. it's not her kid, but no one believes her.
She spoke to MTV about the role..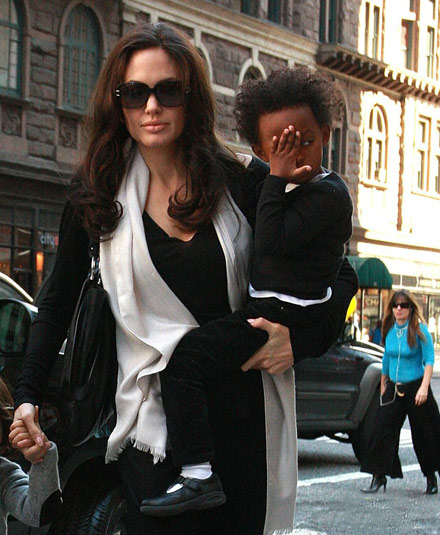 "I have a big busy family. I'm a mom and a lot of other things in my life. And I'm an actor, and I love telling stories and I like expressing emotion to try to connect with other people. With this story, I'm so curious to hear other mothers' reactions. I think it's a film that many people can relate to."
Craziness. Angelina doesn't watch her own movies.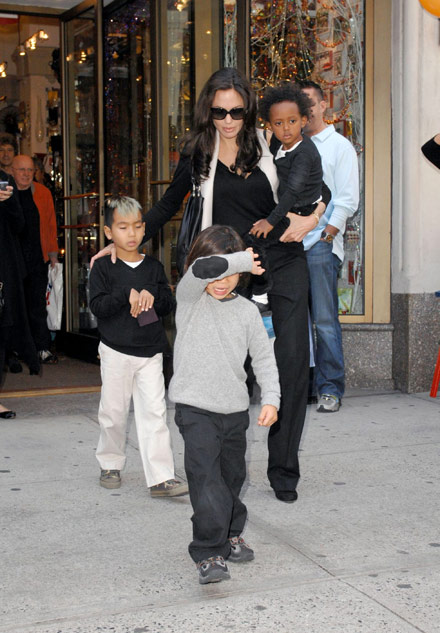 "I never like to watch myself ever. I still haven't seen "Wanted." I heard it was fun. I feel like I did something right if I can watch something and feel removed enough. I can watch this movie. I'm proud of this. I think it's a really beautiful film. You'd have to ask Brad, but I think he likes this one."
Just like I suspected: Angelina took Wanted for the check/relevance reasons. Hey, as long as Beverly Hills Chihuahua movies are bringing in $30 million, while Spike Lee spent all kinds of time and energy on Miracle at St. Anna, made $5 million, and is already out of the top 10, she's got to take that ride.
Notice Brad Pitt has already taught Pax a pap defensive maneuver.