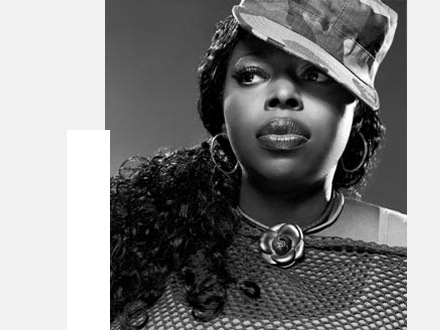 In this month's Essence magazine Angie Stone talks about leaving J Records, satisfaction with her weight and mentions her new album "The Art of Love and War." I say mention because there was nothing more about it in the article. No what does it sound like, direction, producers, nuffin. Well you get this much, it will be released by Stax Records, September 18th.
Much of the standout comments were about D'Angelo.. you know, when he was flexing 8 pack abs and still the ladies Brown Sugar. At that time just about everyone wondered how D'Angelo and Angie Stone ever got together, kinda like T.I. and Tiny. "What does he see in her?"
Angie broke it down..
"When I was dating him he wore glasses, had short hair and his pants were hanging down to his butt. He was just a 19-year-old kid with big shorts and nobody cared and no one saw his beauty but me. And I told him, "You are beautiful. I promise you when your record drops your lips are gonna become famous, your eyes - everything will become famous.
But he couldn't see it because his self-esteem wasn't where it is today. He didn't even have an image and his hair was really short so I braided his hair with thread for his first album cover.
It wasn't until Brown Sugar came out that people actually took a good look at him and said, "You know what? He's fine." Then all of a sudden, he's so fine he shouldn't be with me."
She's dead on with the success = fine theory. I'd add Mark Cuban's rumored quote from a few years back. He was at a club and told his friends to call some girls to the table.. "Tell them I'm a billionaire." Then laughed, you know how it is, "For every million my dick grows an inch."
Angie also talked about her contribution to his debut album.
"To set the record straight, D'Angelo is a genius and he doesn't need Angie or anybody to make him who he is. What people need to know is that we were in love with each other so my presence, my spirit, my gift, all of that flowed into our relationship.
We dated for four years and when you're with someone you become them, we started to become each other and pick up each other's musical habits. So where he was in his life as an individual had a lot to do with how he expressed those songs.
The only thing I can take credit for is "Cruisin," which he couldn't get done without me. I also wrote "Jones in My Bones." ? The rest of the world has placed this stigma between D'Angelo and me, but the truth hasn?t been told until now.
If anything, the beautiful part of Angie - the best friend, the confidant, the songwriter, the supportive lover - inspired his music."
Umm, how can she happily take credit for 'Cruisin'? What did she do, show him the album cover? I'm sure Smokey Robinson would like to throw her a little punishment right now. Push her on that treadmill..
"Who wrote the song?".. "Who wrote it!?".. *I'm gonna speed this thing up* "Runnnn.. Angie B! And get it right!.."