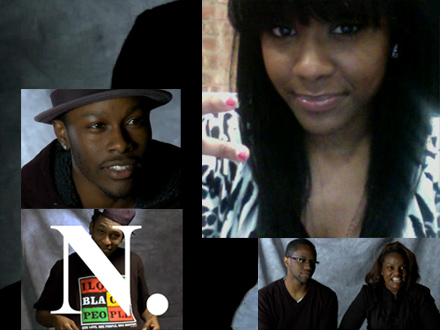 There are a few words I try not to say, one of them is nigga. Even with the remixed spelling, it just doesn't feel like a complimentary term; certainly not something I'd call a friend. So on the occasions I do use it, it's usually in the 'correct' context: angry or pointing out the stupidity of folks. The debate over whether to use the word or not, and who gets that 'privilege' is time that can be better spent.
You will never convince either side why they might want to rethink their ways: niggas made their choice and they're sticking with it. It seems like a round trip to Africa - ala Malcolm X, Richard Pryor, or Dave Chappelle - is necessary before a change of mind comes about. I think Dave Chappelle 'banned it before he went to Africa, but here's some light reading "Ixnay on the N-Word already" and "Dave Chappelle: Black Vernacular Intellectual")
Nevertheless, here's a video put together by a young director/screenwriter in training AV Rockwell (pictured up top with the peace sign.) It's a compilation of interviews, with young and older folks talking about the word in a work she simply calls.. "N."
Check the Miles Davis playing in the background, Spike Lee would love this.