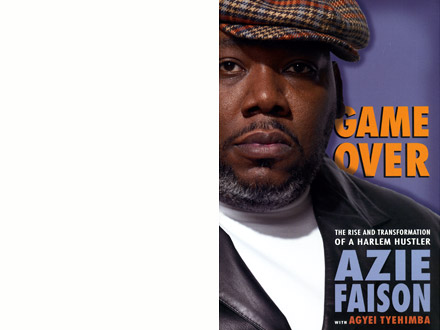 With all this resurgent talk of gangsters past and present as Denzel Washington and Jay-Z's latest is upon us, it's important to remember the life of a drug dealer is all good in the sense of visceral entertainment, but in real life the drug game is far less glamorous.
Over the weekend I read Azie Faison's autobiography, "Game Over." Along with Rich Porter and Alpo, Azie was among Harlem's biggest cocaine dealers in the mid-late 80's. You may have heard their story in Dame Dash's movie "Paid in Full." The movie was originally called "Trapped" which Azie wrote not just to tell his life story, but to show the unglamorous things aspiring dealers would find once the 'high' of having money, cash, and hos wore off.
Azie met up with Dame Dash to get the story produced. His 189 page screenplay would have resulted in a 3 1/2 hour movie, so it needed some editing, but Azie felt it got watered down too much. He loved the acting but not the story.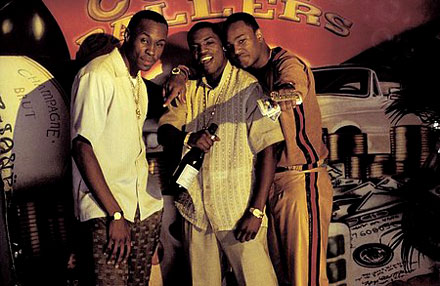 When I met up with Roc-A-Fella, I was excited and hopeful.. but after dozens of meetings with the movie representatives, my feelings changed. I felt like someone took my life, commercialized it, and stripped it of all the truth and power it formerly contained.
The finished product made little reference to the social forces that push so many youth to sell and use drugs. My experiences in school and decision to drop out were not mentioned. There were no portrayal of corrupt law enforcement officials and how they cooperate with drug dealers and other criminals just to make a fast buck. [in the book he talks about cops that would stop his car and take handfuls of money he had in the trunk and let him drive away with the drugs.]
Paid in Full shows that I left the drug game after my shoooting, but fails to show how I changed my life..
Instead of promoting my opinion that the drug game is over, Paid in Full encourages people to idolize the game and its star players."

That's where his book comes in.
He takes it from being an every day kid in the hood watching Good Times, to being able to drop $50,000 in cash on a shiny, new Benz, BMW, or whatever other flavor ride of the week it was; all of them tricked out, butter leather interior, at any given time $20 - 30 thousand dollars in his pockets. This took place before he hit his 21st birthday. No bodyguards or security necessary. Azie's thing was, treat your people good and they have no need to fear or harm you. Instead they'll want to do anything to get down with the team.
He says his lifestyle influenced the rappers of the day. Think Bizmarkie or Eric B and Rakim's thick jewels and custom Dapper Danned Gucci track suits. Although he admits to personally knowing and listening to rappers of that golden era, his opinion of the rap lifestyle was something else..

"Rap music was corny to Harlem street hustlers back in the eighties. We felt most of the rappers were clowns talking shit they knew nothing about. They dressed funny to us and rhymed about silly shit."

In classic Harlem style he talks about riding through the streets in a brand new 'UFO' blasting Steve Arrington's "Dancing in the Key of Life."
While we're talking classic R&B. He also mentioned someone familiar who wanted to get down with the drug game: Teddy Riley took Azie's advice and stuck to music.
Once the block got sour Azie did try to escape the drug game for rap. Can't leave that out because he devotes an entire chapter to it that also details how he was being tracked by the Feds.
The book reads like a street novel - but it's all true.
Money, Sex, Betrayal, Murder.. and Revelation.
"My near-death experience made me do some soul searching… my mind began to pick up ideas on a whole nother frequency. I realized that the money, jewelry, and cars were all temporary. Once I embraced the truth about the direction of my life, I began to have a spiritual battle inside. The little voice inside tried to pull me up the spiritual ladder.. it was very difficult to walk away from the game cold turkey..

Listening to the voice of God forced me to see things I didn't want to deal with. I lost the love I had for the drug game. I began to love knowledge; the more I learned, the more I wanted to learn.

The mind is an incredible piece of work. Once your mind is right things fall into place. You attract the right people, ideas and experiences into your world."
Did I link to the book? Here it is, five stars - Game Over: The Rise and Transformation of a Harlem Hustler