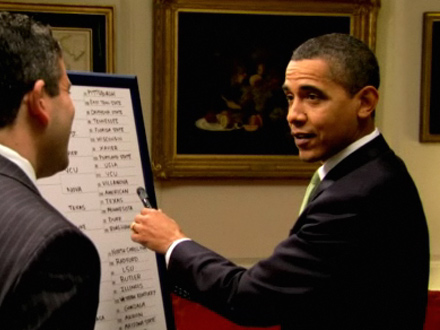 I was listening to a podcast last week, these business types were talking shop and one of them said Barack Obama inspired him to keep his New Year's resolution to exercise. "Here's a guy, the President of the United States, you know he has things to do and yet he finds the time to exercise for 45 minutes, every day. What's my excuse?" On the campaign trail, especially towards the end, this miraculous time management thing of his was on display as well. He'd give a midnight rally speech and be back at it a few hours later at an early morning rally in another state. Does the guy ever sleep?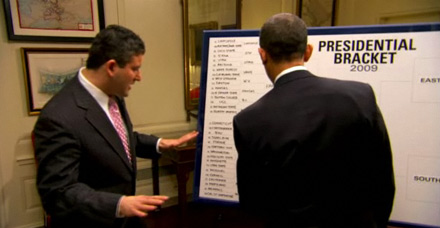 With the AIG mess all over the place, Barack Obama still found the time to fill out a March Madness bracket for ESPN. It's not like he picked up a pen and picked teams randomly, just hoping for the best. The guy peeled off names of coaches, knew which players are injured and doing well/not, teams that finished strong. This is amazing stuff for anyone that understands the amount of *umm* 'research' that goes into the average pool bracket.
Barack Obama Makes his March Madness Picks
He picked North Carolina to win it all and sent them a message..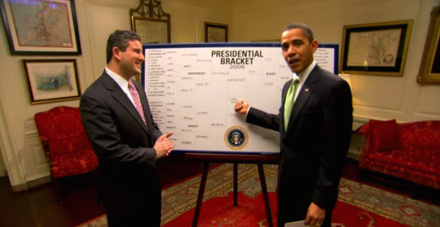 "The Tarheels that are watching. I picked y'all last year. You let me down. This year, don't embarrass me in front of the nation."