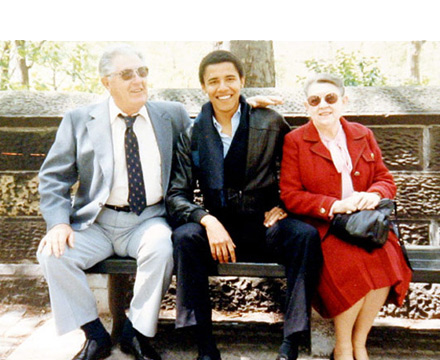 Wouldn't you know it, Barack Obama's grandmother, Madelyn Dunham, passed away on Sunday night. Barack Obama made the news public today, along with his sister Maya Soetoro-Ng. Madelyn Dunham succumbed to the effects of cancer. She was 86-years-old and left a day too soon from this earth, to witness the grandson she raised from a 10-year-old boy, possibly make American history.
It was only a week ago that Barack Obama took a few days off from the campaign trail to see her in Hawaii; knowing her condition and fearing he would get there too late. That's what happened when his mother died of ovarian cancer in 1995. It was during the Hawaii trip that his grandmother told him it was good to see him, but to go back and do what he needed to do. Barack Obama was visibly affected by the news, but you have to believe there is a sense of satisfaction in having seen her before she passed.
Barack Obama On His Grandmother's Passing
Here's a collection of clips about this.
Tribute to Madelyn Dunham
Can this storied path Barack Obama's taking to the White House get any more vivid? There are so many components to it, you'd think it was a movie - in real-a-vision.
RIP Toot.. Barack Obama 08! .. One more day.