When the Rev. Jeremiah Wright controversy exploded, Barack Obama mentioned that Reverend Wright had taken a sabbatical. Everyone seemed to understand what that meant: he would stay on the low until the election was over. The past three days, Reverend Wright has shattered any thought of him standing down for Barack's benefit.
On Friday, Reverend Wright had his first post-controversy interview on Bill Moyer's Journal. He was asked about Barack Obama condemning his statements. Wright passed it off as Barack Obama saying what politicians have to say. On Sunday, he made an appearance at a NAACP function. Got a standing ovation, as he talked about John F. Kennedy's Irish accent and things that a Comicview comedian would say, like, black people's clapping style vs. white people's off beat style.
On Monday, Reverend Wright made a stop at a National Press Club event. Where he praised Louis Farrakahn as one of the most important voices of the 20th century; repeated his claim that the government created AIDS; and joked about being available for a vice-candidate spot; all while defending the black church's traditions.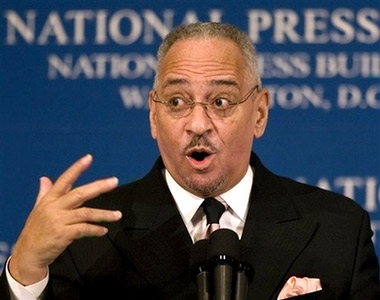 Actually, fending off attacks on the church is why he chose to return from.. "sabbatical".. "Why I am speaking out now? In our community, we have something called playing the dozens. If you think I'm going to let you talk about my mama—(laughter)—and her religious tradition and my daddy and his religious tradition and my grandma, you got another thing coming. (Applause.)"
Somewhere in there, Reverend Wright said he was never Barack Obama's spiritual advisor and if Barack Obama is to become president, then it would be God's will. Implying that anything he says or does isn't going to to change Barack Obama's chances.

Surf those transcripts. Reverend Wright's comments are lifted completely out of context, but that's how we got here in the first place. By providing the media with fresh material to pick through, it's completely short-sighted and self-destructive for Reverend Wright to handicap someone you would think he cared for. Barack Obama said Wright was like an uncle to him. And that crazy ol uncle just stabbed him in the back. And for what? If the black church is on fire, it's because he's standing in the aisle with gasoline draws on. Jump in the water, take a bath. >> Help a brother out.
Yesterday, Barack Obama disowned Rev. Jeremiah Wright. Looking sad, uncomfortable, and at times, angry, Barack Obama cut the umbilical cord..

"The person that I saw yesterday was not the person that I met 20 years ago. His comments were not only divisive and destructive, but I believe that they end up giving comfort to those who prey on hate, and I believe that they do not portray accurately the perspective of the black church.
They certainly don't portray accurately my values and beliefs.
If Reverend Wright thinks that's political posturing, as he put it, then he doesn't know me very well and based on his remarks yesterday, I may not know him as well as I thought either.
I gave him the benefit of the doubt in my speech in Philadelphia, explaining that he has done enormous good in the church. But when he states and then amplifies such ridiculous propositions as the U.S. government somehow being involved in AIDS; when he suggests that Minister Farrakhan somehow represents one of the greatest voices of the 20th and 21st century; when he equates the U.S. wartime efforts with terrorism – then there are no excuses. They offend me. They rightly offend all Americans. And they should be denounced, and that's what I'm doing very clearly and unequivocally here today.
It is antithetical to my campaign. It is antithetical to what I'm about. It is not what I think America stands for."