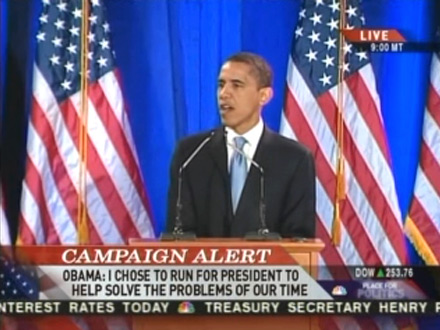 After a weekend of appearances on the news circuit, this morning Barack Obama addressed the Jeremiah Wright controversy head on. All morning there has been a somber, negative, and funeral-like tone on cable news. Didn't matter what channel you switched to or who was saying it, there is no way he can overcome this one, was the message. I'm the kind of person, once I hear something cant be done, now I want it with all my heart.
Barack Obama stood at that podium and proved that he is the only person we, as in Black, White, Chinese, Hispanic, you know the flavors - Barack Obama showed why he should be our next President. He put Jeremiah Wright's words into the context of a man who grew up only knowing a racist America; circled back to why blacks in general might feel disaffected; then spoke on whites disaffection as well. Then he stuffed it all in a beautiful package labeled with the message that his campaign has been about from the beginning - the belief that things can change.
Over the next few days, the nature of the media, will slice what he said into easily consumable sound bites. I didn't even want to write the previous paragraph.
It's a disservice to what was said. Kick back and watch.
Part 1
Part 2
Part 3
Part 4
The way he handled this controversy has truly solidified my belief in his candidacy.
OBAMA 08'