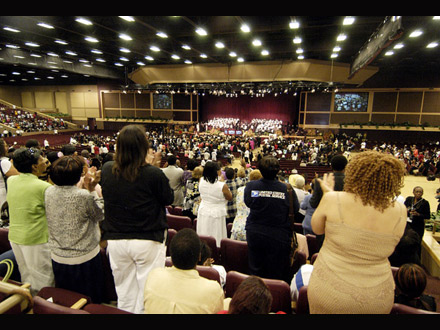 Nearly seven thousand people showed up yesterday to give respects to Bernie Mac at his funeral service at House of Hope Church in Chicago, IL. People start arriving around 7:45 a.m; the ceremony started at noon and ended shortly before 4pm. Among the celebrity faces in attendance were Don Cheadle, Chris Rock, Salli Richardson, Samuel Jackson,..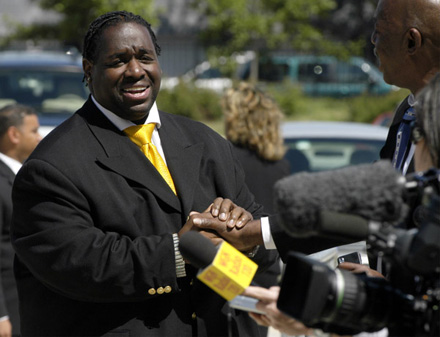 comedians George Wallace and Bruce Bruce, radio host Tom Joyner,..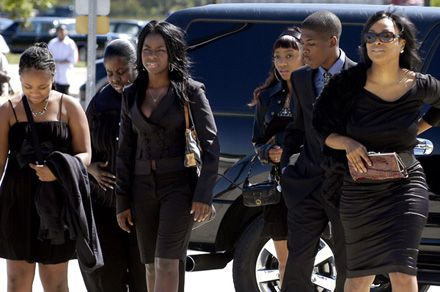 the cast of The Bernie Mac Show (Dee Dee Davis, Camille Winbush, Jeremy Suarez and Kelita Smith), and of course Steve Harvey, Cedric the Entertainer and DL Hughley << his brothers from the Original Kings of Comedy.
With comedians in the house there was no way jokes weren't going to be dished out to lighten the mood. According to the Chicago Tribune, Cedric the Entertainer was the first to speak and acknowledged the mass of people that showed up.. "This dude," said the comedian and actor, "is a very, very popular guy. You know y'all were like, 'Let me get four tickets to the funeral!' He's still the hottest ticket in town!"
Steve Harvey..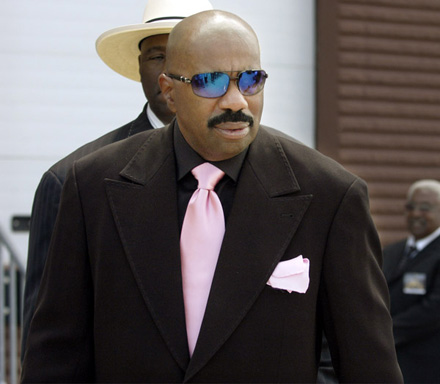 He told how Mac, formidable at 6-foot-3 and built like a football player, Bernie Mac would pat the guys on their butts to encourage them before performances. "But Bernie was heavy-handed. He had real strong hands, and they were cupped all like this," Harvey said, demonstrating Mac's hands while the audience howled in laughter…
"I'll see you soon, Bernie," Harvey said, looking upward, then with perfect timing: "Well, I don't want to see you too soon."
Notes were read from those who couldn't make it: Oprah Winfrey, Barack and Michelle Obama, Congresswoman Maxine Waters, Andy Garcia, and more.
Bernie Mac's favorite singer Rachelle Ferrell sang a tribute to Bernie and Isaac Hayes. This is NOT THAT performance, but when a new name shows up on your musical radar, aren't you interested in what they look like and how they sound?
Rachelle Ferrell - " I Can Explain" (Live)
Wow. Understandable how she was his favorite.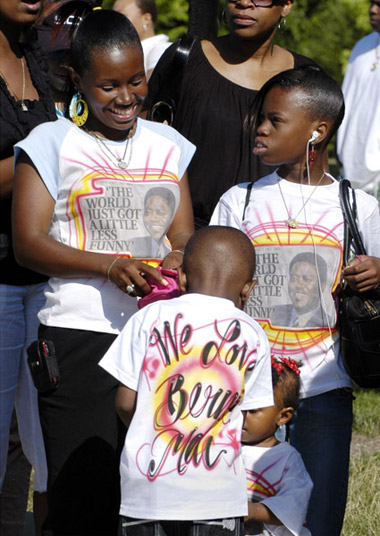 The shorties speak for us all. On the other side brotha.
——
Images:(Warner/Wireimage)