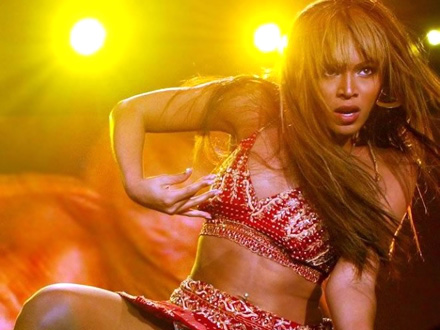 Beyonce is well into The Beyonce Experience tour - three weeks to be exact. She has a good reason to be tired, dehydrated and just a little dizzy - all that screaming and yelling takes a toll on a girl.
Last night at the Amway Arena in Orlando, Florida, Beyonce was 'singing' the opening lines of "Ring the Alarm" when she found herself face first into the steps of the concert stage.
Doubt you'll find the video on her fan site, but cellphone cameras will never allow a moment like this to escape YouTube (thank grantgrant for keeping that battery on four bars).
Don't worry about the bad sound or infrared lighting.. give it 30 seconds for the money shot.
Oh how I wish Destiny's Child was still together. To see Michelle get her payback moment.. who's stepping over who now?
No doubt Kelly would have swooped over to pick up Beyonce.
Hell she would have cushioned her fall.
It's linked but this really does need an official..
"Who Did It Better?" * <
< borrowed for the day 😊
Michelle - A Classic
Haha. Anon here it is. Three's now company.
Kelly in Nigeria