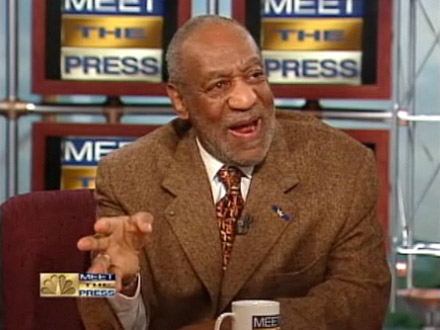 Yesterday as I was writing the Lisa Bonet post, in came the news that Bill Cosby would be on Meet the Press on Sunday morning. Thats a nice one-two combination. Given that he's been the voice for pulling up your pants and using some good Christian names on birth certificates (haha), Bill (can we call him that) was there to talk about the social impact Barack Obama's presidency will have in the black community. Well that's how it was promoted. It was actually a round table discussion with California Congresswoman Maxine Waters, Dr. Alvin Poussaint, and Washington DC Mayor Adrian Fenty; and Bill Cosby's answer to the question was a little more well rounded..
"The important thing is what he's doing with this country, for this country. And the beauty of it is that his story of his mother, Michelle's story of her father, this hits all colors, all religions, all races.."
"One of the things I've heard, is that when a person gives, when a person does a service, that there's something that happens to them emotionally. I've heard people working with prisoners, talk about prisoners breaking down and crying, because they taught another prisoner, they mentored another prisoner to learn how to read. And the mentoring person started to cry. You can't make a man cry, as a policeman has told me, by punching hm in the face. They don't cry. But here this man is and it's something emotional about us giving to each other, teaching each other, and that's what this family's talking about."
Kind of a buried quote in the segment, but Bill Cosby will appreciate that I was, umm.. listening. That's one of the things we're talking about, right? It's at 8:55..
Here's the off-air Take Two segment, where Bill Cosby gets to solo..