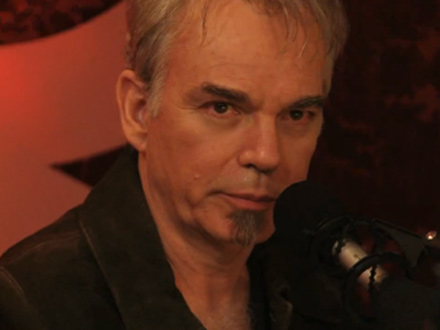 Over the course of his career, Billy Bob Thornton has dabbled in music with a fairly warm reception from the folks. Check Billy Bob music for a sample. Of course, he's famous for what he does in front of a movie camera. Success on the big screen gives him the freedom to continue his musical pursuits without the shackles of dollars and sense stifling his creativity. Billy Bob Thornton's latest project Modbilly was recorded with his band The Boxmasters. They are currently on tour with Willie Nelson.
Snoop Dogg will tell you, Willie is a big fan of legalizing weed, which he must be handing out in big bags during the tour. In an interview with the Boxmasters on Canadian station CBC's Q TV, Billy Bob Thornton is literally two steps behind, one thought above the rest. At the beginning of the interview, he was asked when the band started playing together and answered with.. 'I don't know what that means.' And he's serious.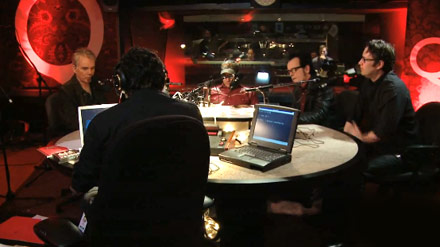 The other members of the band have the look of, 'uh oh.'
They're pissed + embarrassed.
Asked about his love of a music as a kid, Billy Bob Thornton talks about reading monster magazines and a contest that he didn't win. Which would be perfectly fine if the loose pieces of that story tied up in a fantastic relevant bow at the end, but there's no musical conclusion. The interviewer reminds him of this..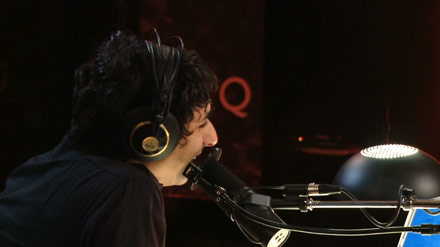 "Where does the music fit into that?"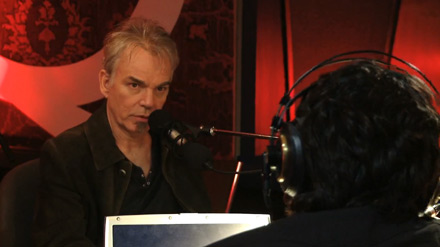 "No. It was a monster magazine."
Billy Bob Thornton is clearly flustered, so the interviewer gives him a softball, "You seem to be quite passionate about music.."
Oops. Apparently, Billy Bob Thornton doesn't think having passion for something is complimentary. He asks, "Would you say that to Tom Petty?" It's just scattershot from there. They start going back and forth about having the right to bring up his acting career during the interview and wind up in the land of Cosmic Cowboy music.
Billy Bob Thornton Q TV Interview
The perfect exclamation point for this whole thing: interview guy asks if the band is set to play a song, Billy Bob Thornton says, yes, but he's going to sit this one out.. It's going to be an "instrumental." The guy is the drummer! Hey, but there's a good reason for his silence..
"We don't cart those around at 6 in the morning."