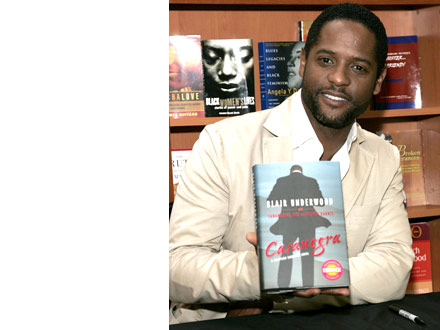 Blair Underwood was at Harlem's Hue-man book store yesterday, signing copies of his first ever murder mystery book, "Casanegra." The book was written in collaboration with two established authors, Tananarive Due and Steven Barnes (22 books between them.) They created a story about an ex-gigolo named Tennyson Hardwick.
Hardwick (there's a joke there for the ladies) is a 'gorgeous' actor living in Hollywood.
One day he reconnects with a female rapper, Afrodite, one of his former clients, for a night that ends with more than sex. The next day she's found dead, stuffed in a plastic bag with her head split open. Guess who the suspect is?
The book has received rave reviews on Amazon.
They all seem to love the sexiness of it. Even E. Lynn Harris, but that's another story.
One woman wrote.. "I generally plow right through "page-turners", but CASANEGRA was different. I took my time and savored the read, much as I would enjoy a glass of good wine. The writing was perfect: seductive, action-packed, and filled with unsavory characters that you wouldn't want to meet on a deserted street..
I also appreciated the balance between the raw and the refined. Foul language was never gratuitous, and the love scenes…well, let's just say that Barry White knows how to get the party started, and Ten is the master DJ who knows exactly what—and how—to play. Yummy, yummy, read."
Publishers Weekly describes it as.. ".. a cocktail of exotic elements - the sex for pay industry, the grind and glitz of Hollywood and the rap biz, a smart leavening of black film history - and topped with a double shot of brutal murder.. handsome Ten Hardwick has not only a great backstory but a very promising future."
Earlier this month Blair Underwood and his collaborators were on NPR.
He talked about how the book is the first of a series, how it came about, and mentioned that this gigolo character, in a different storyline, almost became a movie starring himself and the uber diva Miss Diana Ross.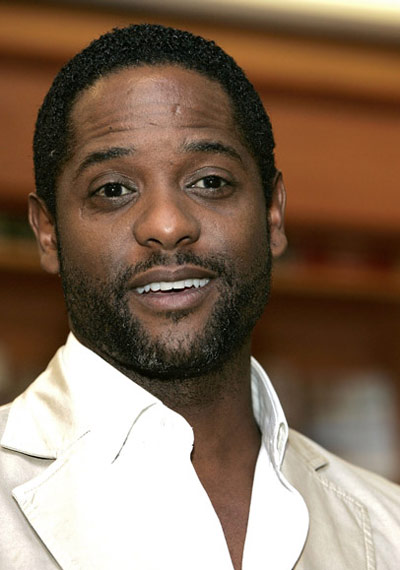 "We've been working together over the years and I'm just so enthralled with their (Tananarive and Steven's) brilliance as storytellers. So this is a story, a character specifically, that I wanted to follow."
"It was based initially on a project I was going to do with Diana Ross, years ago, for a film. An older woman, younger man love story. But the character was a former gigolo who was dealing with inner demons and you know doing whatever he was going to do."
"I basically approached them about two years ago and said, 'Let's do a project together. You guys are great novelists, that's what you do. I have ideas. Lets create a story together.'
Steven was the one who said why not do a murder mystery series. So we don't just do one book together, we do a whole series."
BAM! It was done.
You can listen to the rest of the interview on NPR's site.
And download an excerpt from the first chapter here.