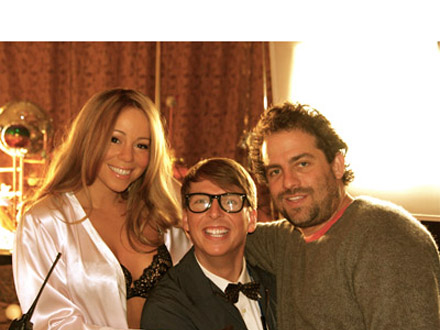 In the 90's, Brett Ratner made a name for himself with music videos. Since then he's graduated to some big budget movies - check the credits of those Rush Hour flicks and X-Men: Last Stand. He took a weekend breather to direct Mariah Carey's "We Belong Together" video in 2005. Due to the writer's strike, Brett had some free time on his hands once again. So who calls him?.. It's Mariah Carey. She let him listen to her new album E=MC2 and they hashed out video treatments for the first single, "Touch My Body."
After two days of filming the video was completed just this week. If you have Brett tell it, it's going to be the best thing you've seen since Mike Jac did the zombie slide.
Speaking to Ryan Seacrest on Los Angeles's KIIS FM, Brett chatted up the video..
"This is like, I don't want to exaggerate, it's like when Thriller first came out. The anticipation of it. People don't really know this, but Mariah is hysterical. She keeps me laughing all the time and this record is kind of funny. There was no way we could do a video, just with a cute guy and she's singing touch my body. People are gonna laugh. So I said let's really go for ours."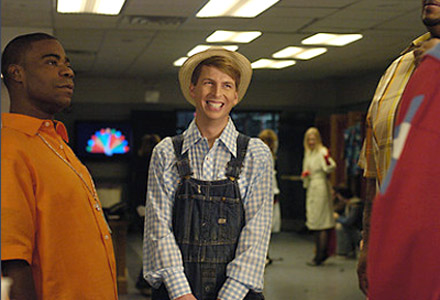 "One of the funniest guys in the world is this guy named Jack McBrayer - who's on 30 Rock.
We called him up and he turned out to be a huge Mariah fan, and he showed up and.. I don't want to give to much away, but I gotta tell you, he is one of the funniest guys I've worked with. His character fantasizes what it would be like to be with Mariah."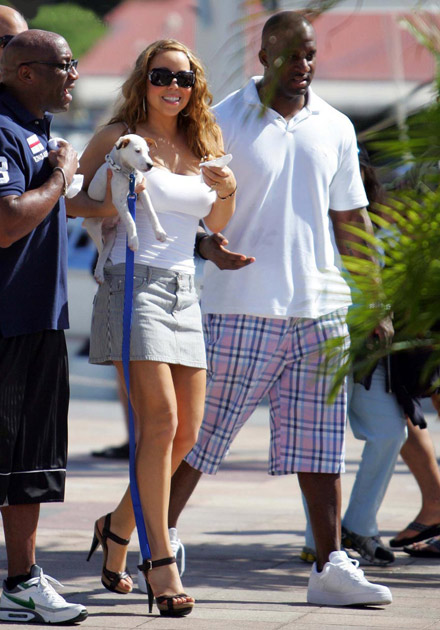 "Mariah looks better than she has ever looked. It's ridiculous. She has this trainer that she flew in from St. Barts, and this woman is beating the hell out of her and her body. Mariah has an incredible body, but she was always kind of very voluptuous. Now she's just like, fit. And we were like, we've got to show this body.
Without making fools of ourselves, we really took this all the way. Because when you have a comedian like Jack and it becomes fun and funny, you can go as far as you want to go. I never had so much fun shooting a video. When you guys see it, you're gonna flip out.
It's a movie. It's not a music video. It's literally a movie. We have dialogue in this video. It's hysterical."
As you can tell.. it's gonna be "funny" and "hysterical" (the audio makes that slightly less annoying.)
A link to the video would've been nice, but Brett is working on that final cut as we speak.
He said he's going to 'online' it and the TV debut is Monday, Feb 25. I'm guessing online means that, "Hey, who leaked it?" kind of thing. Judging by the description - goofy guy fantasizing about a woman's incredible body - it sounds like JD and Janet's little thing back in 05'. We shall see.