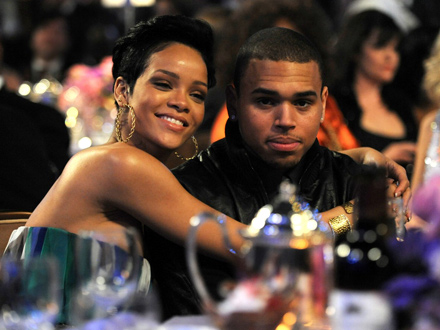 According to People magazine, Chris Brown and Rihanna have made up and are currently spending quiet time at one of Diddy's houses on Star Island. Chris Brown reportedly called Rihanna on her 21st birthday (Feb 20) to wish her the best and tell her how much he cares for and adores her. Speaking about the kiss and make-up, a source told People.. "They care for each other. While Chris is reflective and saddened about what happened, he is really happy to be with the woman he loves."
It's great for them if it's true, but is Chris Brown serious about this love and affection he speaks of or is it like any other guy that lays the pimp smack on a woman only to sweet talk them a few days later with 'sincere' apologies and babble about how hard his heart beats for her? You know, the woman really cares for dude so she accepts the apology (black eye and all) and they hop back on the merry-go-round until the next time he loses control.
It could be Chris's crafty way of getting out of those abuse charges. Play nice and once there is no longer a possibility of going to jail he can split up with Rihanna on friendlier, less risky terms. Also, at least on the musical side, his career could be rescued to some degree.
On the flip side it makes Rihanna look incredibly dumb. Chris Brown via rumors has hit her before, but this time she was lumped up a la mode, all over the web. Most people were shocked and felt some kind of sympathy for her. Yet three weeks later she is right back in action with him? All I know is next time there will be far less caring about that fat lip or those sunglasses for no reason. ← Hey, it's a love thing. :T