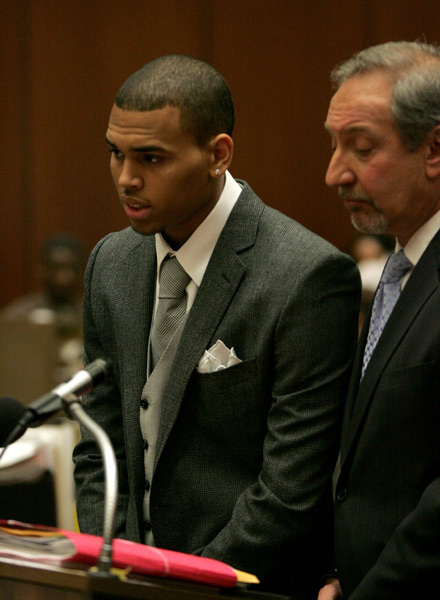 Yesterday afternoon Chris Brown was in a Los Angeles courtroom for his arraignment. The judge officially identified Rihanna as the victim in the case and charged Chris Brown with two felonies: assault likely to cause bodily harm and making criminal threats. Chris Brown didn't enter a plea (guilty/not guilty), his attorney asked for a continuance, which means the arraignment is on hold until April 6.
Rihanna wasn't in court but her attorney Donald Etra told the judge there was no need for a 'stay away' order for Chris Brown, "Rihanna requested that no such order be issued," he said.
Which gives weight to the rumors that Chris Brown and Rihanna have kissed and made up. Stop it. I'm talking to you. Do not try to talk sense into this girl. Rihanna is reportedly not even listening to anyone in her family. On Monday, one of Rihanna's relatives said, "No one wants them back together. I'm concerned. I don't want her to make a mistake, and I don't want her to ever go through this again."
The Police Report
I know we've been there and back, but the police report has been released. It contains all the details of the assault. Just like the fight photo, it is shocking.
Here's the short version..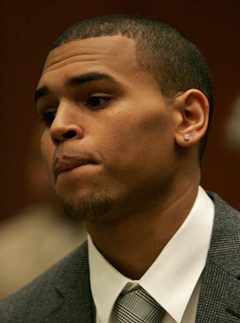 "Brown was driving a vehicle with Robyn F. as the front passenger. Robyn F. picked up Brown's cellular telephone and observed a three page text message from a woman who Brown had a previous sexual relationship with. A verbal argument ensued and Brown pulled the vehicle over on an unknown street, Brown reached over Robyn F. with his right hand, opened the car door and attempted to force her out. Brown was unable to force her out because she was wearing a a seat belt..
When he could not force her to exit, he took his right hand and shoved her head against the passenger window.. Robyn F. turned to face Brown and he punched her in the left eye. He then drove and continued to punch her in the face with his right hand while steering with his left hand. The assault caused Robyn's mouth to fill with blood and blood to splatter all over her clothing.
Brown looked at Robyn and stated, "I'm going to beat the shit out of you when we get home! You wait and see!"
As if that hadn't happened already.
Rihanna then faked a call to the cops, which really got Chris going,
"You just did the stupidest thing ever. Now I'm really gonna kill you!"
There's like three more pages of that at The Smoking Gun.