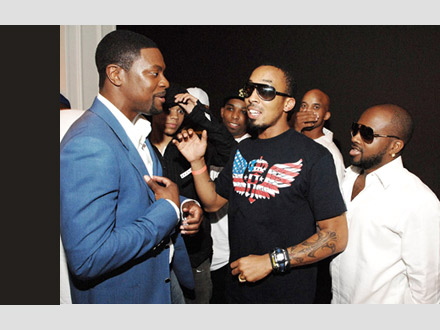 Last night Chris Tucker held a Rush Hour 3 premiere in his hometown Atlanta, GA. Rush Hour 3 is the kind of movie that needs no explanation, it's karate kicks and Chris Tucker jokes ready made for primetime TV. Yuck!
"What the heck are you doing man?.. Shut the stuff up!.. Fart off!" Whenever I see Chris Tucker these days I can't help but think how he completely handcuffed his career for the folks at his neighborhood church.
After Friday it was their frowns that weighed heavy in his decision to watch his mouth.
That's fine, but how many years was he performing in clubs, made appearances on Def Jam, before he decided he better listen to them? It's his career and he's not hurting for money, Rush Hour 3 earned him a $25 million paycheck, but unless he pulls a Will Smith and starts doing drama and action movies, he'll forever be known as Smokey.
If Chris Tucker has it his way, he's gonna get to that next level of movie stardom.
First step: shake the Rush Hour series.
"For me as a career move, I don?t know if I want to do another one. The fans will have to really, really, really say that '3' was so good that they want to see another one. Because I really want to do something different."
So he's working on a script where he'll play the next black president.
Hold up, didn't Chris Rock do that already? ..
"He did a version about becoming president, I?m going to be the president.
Recently Chris mentioned he was open to working with Ice Cube again. He repeated that in the interview; would that reunion be called Saturday? <
< 😊
It would be nothing short of Jesus hitting the bricks again for that to happen; maybe I shouldn't bring biblical figures into this considering Chris is the subject. But here he his working on a I'm the black president comedy.. which is shaky anyway considering Obama is taking the laughs out of that joke.. meanwhile he's refusing to do a movie that sounds five times better.
Think a Reservoir Dogs-like heist comedy, directed by Brett Ratner.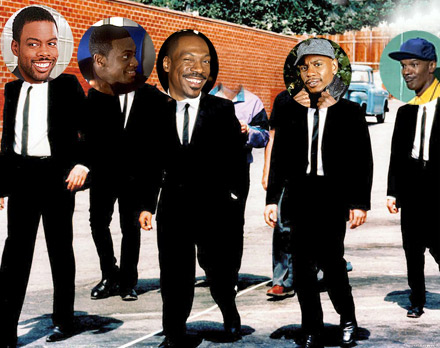 Starring Eddie Murphy, Jamie Foxx, Dave Chappelle, Chris Rock, and Chris Tucker.
Chris Tucker wants no parts of that.
"I'm not going to do it because for me I'm trying to build a body of work and that won't do anything for me. This movie [Rush Hour 3] is good because Jackie is Asian and I?m black. Jackie is known around the world and right away from 'Rush Hour' I was known around the world. It was just a perfect blend.
With everything I do, I try to take it to another level and do something different. But me being punched up with a bunch of other comedians ain?t gonna do nothing for me."
Wow. I would hate to be his agent.