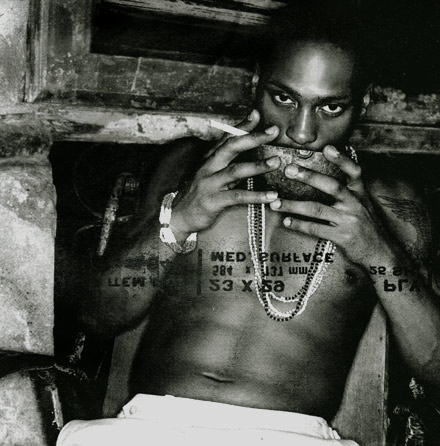 Have you ever wondered what caused D'Angelo's shocking weight gain and drinking/drug problems that drip into the news every now and then?
In this month's digital Spin magazine, D'Angelo's former manager and associates give the goods: he was angry and depressed that women were drooling over his body and not his music.
Dominique Trenier was D'Angelo's manager. After Brown Sugar he wanted to reshape D'Angelo's image to better cater to a female audience. Just like female singers are encouraged to show more skin and slip into skimpy outfits to skyrocket their popularity, Trenier convinced D'Angelo to get in shape and lose the shirt. It works >> think 50.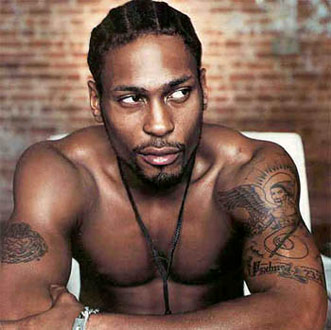 Trenier.. "Initially to him, it seemed completely bonkers. He didn't quite get what I was saying. he kept going, 'What do you mean, naked? ..
You've got to realize, he had never looked like that before in his life. To be somebody who was so introverted, and then, in a matter of three or four months, to be so ripped-everything was happening so quickly."
"How Does it Feel" proved Trenier right; D'Angelo gained a huge number of new female fans and locked down the old ones. One listen to Voodoo also reveals D'Angelo's artistry - his love of music and pushing boundaries. But the new jack fans, in love with him because of the video, had no interest in his artistic babble during concerts.
Take off your clothes!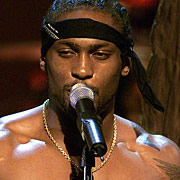 Roy Hargrove.. "We couldn't get through one song before women would start to scream for him to take off something. It wasn't about the music. All they wanted him to do was take off his clothes."
The catcalls had an undeniable effect on D'Angelo. "He'd get angry and start breaking shit." says Questlove.. "The audience thinking, 'Fuck your art, I wanna see your ass! Made him angry."
As Trenier put it, D'Angelo "isn't a sexy dude" but a "real musician who wears glasses and plays video games," objectification appeared to do lasting damage.
His tour manager, Alan Leeds added.. "I didn't realize how vulnerable he was and how deep his issues ran. He's cursed now with fretting over how much of his fan base is because of how he looked as opposed to the music. It took away his confidence, because he's not convinced why any given fan is supporting him."
A friend's suicide and ego problems in the studio didn't help either.
After going through a rehab process at Eric Clapton's Treatment Centre in Antigua, D'Angelo is reportedly back in "martial arts" shape, and tucked in the studio, working as we speak.
The album is slated for a Fall/Winter 08' release on J Records.
Want the full context? >> Body and Soul