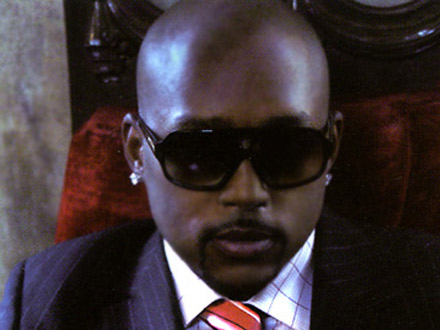 I'm not sure who wears FUBU or if it's even in stores anymore, but Daymond John, the founder of FUBU (actually he has two partners but he's the 'face' guy) has written a new book called Display of Power: How FUBU changed a world of fashion, branding and lifestyle. Released a few weeks ago, it's fresh on the shelves. I'm pretty sure Karl Kani is fuming over the implication that FUBU started the for us by us urban fashion train.
Karl Kani was the first to take urban fashion from the fruity colorful Cross Colors stage to something a grown man wouldn't mind wearing. FUBU was second in the door, but they made a couple of moves that left Karl Kani frozen in place. The key shift - marketing. Remember all of those FUBU ads featuring the hottest rappers of that time? And Karl Kani stuck to featuring himself. Only later did he make the switch, but it was too late. FUBU was THE brand to wear.
If Karl Kani wrote a book on his start and experiences in the fashion game I'd want to read it. Maybe now that Daymon John has beaten him to the punch, Karl will get a ghost writer on contract and knock it out.
I haven't cracked the pages yet - but I did peep this excerpt that's actually pretty revealing about how seemingly meaningless things can reveal a lot about a person.
Go Straight to Jail..
"One of the routines I developed, early on, was to sit my people down for a game of cut-throat MonopolyA??,??__once a month or so, after hours. For a while, we played a couple times a week. It was a great release from all the tension and pressure that would build up during the day, and more than that it turned out to be a chance to see the people who worked for you outside of a traditional office dynamic."
"Think about it: around a Monopoly board, you can see how sharp someone is, how they deal with people, whether they're hesitant or honorable. It's a great tell. Didn't start out like any kind of stratA,A?egy or litmus test. A group of us just started playA,A?ing, is all, and I started to notice the value in the game, started inviting others to sit in, on a rotatA,A?ing basis."
"Understand, it wasn't a garden-variety game of Monopoly, the kind you used to play when you were a kid. No way. This was vicious. We'd play for money sometimesA??,??__maybe S5O, maybe S1OO, whatever we felt like at the timeA??,??__but it was never about the money. This was killer, full-throttle Monopoly, and it was all about winning. It was about pride and respect and bragging rights, and whatever it took to outA,A?play, out-smart, out-hustle your opponents."
"Over time, the game cost a couple people their jobs, or maybe even made a couple careers."
"Don't mean to suggest that I made my hiring and firing decisions based on a board gameA??,??__but hey, I'd learn some things that colored my thinking, I mean, you play ten games with someone, and they're conA,A?stantly cheating or being slick, you start to quesA,A?tion whether they're the type of person you want representing you or your company. Conversely, you play ten games with someone, and they're making deals and working it out and finding away to win, you take notice of that too, and maybe you fast-track someone as a result."
"You lean towards what you see around that board / you play with a guy, he doesn't know how to pull the trigger, he can't see all the way down the road, takes a very short view on things, you make a note. You see a guy, can't take the pressure, gets mad when things don't go his way, starts to throw things, you make a note of that as well."
"Yeah, it's just a game, but a lot of people think business is just a game, too. We're all playing to win. With Monopoly, it's the kind of game that reveals a person's character. Chances are, it's stuff that would come out eventually, but it puts a clock on eventually and gives you information you'll need to get and keep ahead."
"And it doesn't have to be Monopoly. It could be anything. Poker. Hoops, Pin The Tail on the Donkey, This is why rich white guys spend so much time on the golf course, doing deals."
"Find whatever works for you and your group and make something out of it. And be sure to take notes."