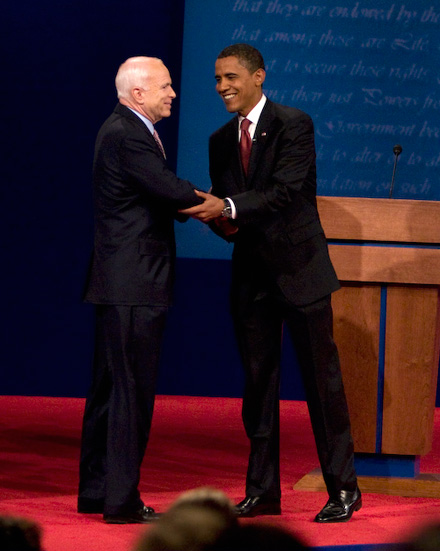 What did we learn in this first debate? That Barack Obama has gotten better since the primary. It must be acknowledged, there was no winner: John McCain was tough and kept his comments on the offensive; Barack Obama was left to explaining his positions.
This was primarily the foreign policy debate, supposedly a Barack Obama weakness, but he showed that he is well versed and capable on the issues.
The one question I wanted asked during the Iraq segment was: What is the definition of success in Iraq? John McCain constantly talking about staying until the war is won. When does that happen. What is the "strategy or tactic" to get to that nirvana?
Regarding the economy, it's clear that even with an unplanned $700 billion project to start with, Barack Obama has a plan for growth that addresses the needs of the average American. Where as John McCain believes that savings to corporations and selective earmark cuts will find its way to your pocket. If it sounds like you've heard that before, try George Bush for the last eight years.
The most hilarious thing was John McCain's attempt to flip positions and say Barack Obama is stubborn and sticks to the same ideas like.. George Bush. You hear that? That's the cheers from the moose hunters.
It's those kinds of one line declarations that stick in the minds of people with no interest in the two paragraph rebuttal.
"That's not true, John".. How many times did Barack Obama say that? And then proved it.
I say there is no winner only because (us) Barack Obama supporters will appreciate his command of the issues and John McCain supporters will love his dismissive attitude and ability to rattle off events from the past 30 years. Even though it was a draw, the reality is John McCain has no plan for the future - it really is that simple.
Two more rounds to go.
Moments Before the Debate flicks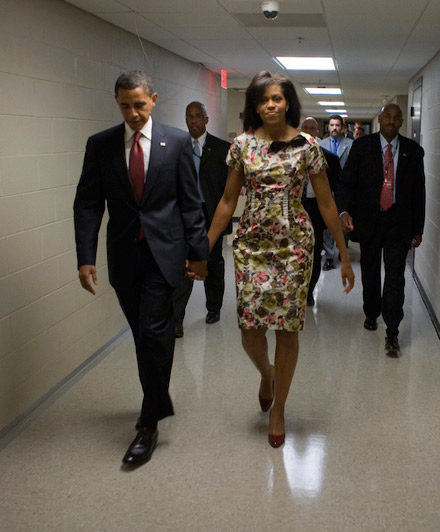 Barack and Michelle Obama walk to the debate area..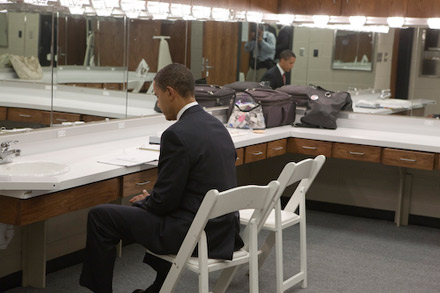 Some last minute studying and a moment of silence.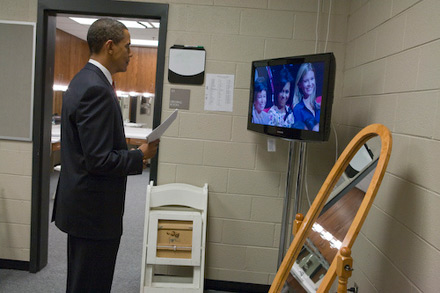 Michelle is seated and ready for the show.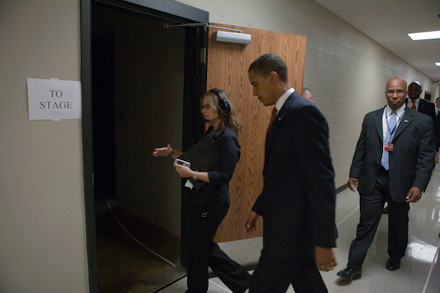 Time for some action.
Barack Obama 08'