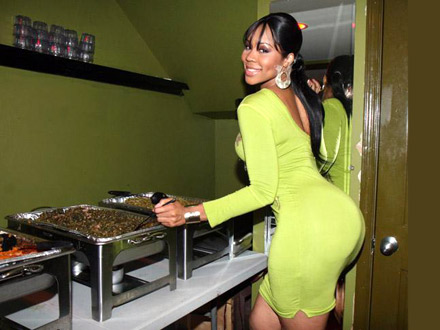 Over the weekend I hit the magazine racks and spotted Deelishis [London Charles] on the cover of Sister 2 Sister magazine. Nothing personal, but I have her filed away in the 'bitch please' side of my brain. Not sure what happened after Flavor of Love 2, but the end result looked a lot like Hoopz with a little lot more class and exposure. Here she was in Sister 2 Sister talking about finding a new love, it just wasn't something I cared anything about. I did a quick flip for any mention of what happened with Flav though, got bored quick, and jetted.
Too bad.. I could have gotten a peek at that new man.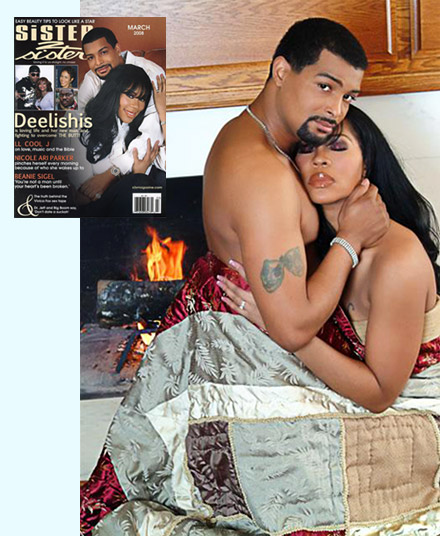 Some people are saying Deelishis is going to be singing Terry Mcmillan's blues in a short time. All I'm saying is, no man should be looking that sweet, hiding in a damn bed sheet. That's way too.. gay looking.
Turns out in the article she did address what happened with Flavor Flav, but nothing like she did this morning on her Myspace page.
To clear up things once and for all, Deelishis said she didn't use him to start her jean line, DCut, that he left her, cut off all communication, so he could re-up with the folks at VH1 for Flavor of Love 3.
In her words.. grab a latte, this is wordy.
Well I do believe it is time to answer THEE question. I did not want to expose our situation completely, as I assumed the truth would come to light in its own time. I thought it'd be the best thing for him. But seeing how he so blatantly disregarded the truth in order to legitimize his way into your homes for a third season, I must be real with you and speak up for the truth and myself!

No I did not leave Flav to sell blue jeans, I didn't leave Flav at all. Honestly William Drayden and I were never really a couple, for the day I won, inevitably was the day I loss. Fearing that the show was all a stage to entertain, I often ask Flav, "Is this real or are you just having fun" He was always calm and with a sincere and straight face replied, "Yes this is real, and I do wanna have you in my life". Now many of you may say I was being naive to believe in a reality love affair, but at the time it felt right.

This was Flavor Flav from Public Enemy, he is an older man and knows better than to play games. I thought life is short, take a chance and enjoy your opportunity to love. But love is not what Flav wanted, at least not when it came time to renew his reality show contract. He had a choice, sign up for a new season or stick it out with Dee. But he didn't think twice. After I won the show and the reunion was taped, Flav distanced himself from me. He changed his number and was advised to cut all ties, or he would ruin the possibilities of a third season.

In the meantime, I wanted more than to be known as Flav's girlfriend with the Big Butt. I have gifts that are beyond what you see on the outside. I wanted more for myself and my child. I appreciate the appreciation of my physique, and all of the opportunities to grace these wonderful sexy men magazines, but then what?!!! I had been tailoring and altering my own personal clothes since forever due to my body type, so when the opportunity arose to design, style and tailor jeans for women abroad, I put my best foot forward and handled my BUSINESS! ALONE!

I did it without Flav not because I left him, I did it without Flav because he WAS NOT THERE!!! How can you leave someone who was never there? I am a single mom, who has the right to take care of business by all means necessary! And as women, we now know that we don't have to wait on no MAN to handle our business! I did not compromise my character nor his, nor our relationship by starting my own entrepreneurship.

A real man would have been right there by my side the entire time. So I started my own business, okay but how does that add up to leaving him? It doesnt. He lied!

But its all good…his loss. A man who walks away without care or concern was never true to begin with. And yes I do have someone new in my life right now. However loving who I'm with now, doesn't mean I never loved Flav, it means God decided I am good enough to truly be loved by someone even after Flav and all the bullshit I had encountered. Someone who loves me unconditionally, with or without a camera or some TV show. Someone who won't leave me for a check and a chance at ratings. And no dissrespect to Flav. Obviously he had to do what he thought was best for him, and at the same time, so did I.

He says we were a bad batch of women, and that this time around he doesn't want a girl who's gonna be famous off of him, well here's a suggestion Flav…don't date on national television, cause everyone on that show is going to inherit some sort of fame.

So there it is, the truth. I hope I've answered your questions and concerns.

Oh and as for the new love in my life, yes its real, its honest and its healthy…and before any of the hating begins (yall know the haters cannot wait to try and tear this union to shreds) no he don't beat me! no I didn't mess with him while I was with Flav!

And hell to the naw, HE AINT GAY, he aint got a GAY bone in his body, so please don't start with that dumb shit lol. and no we are NOT engaged…yet.

Now that we've got them rumors out the way, like my homie Katt Williams say, "We gone keep it pushin round here lol"

I love you all with Gods love, be blessed and lets keep it real always,
Deelishis
I was satisfied with Deelishis's answer << read, no more 'bitch please.' She better keep an eye on ol' boy though. Even in that club picture, there's something not right about how he folds up into her.