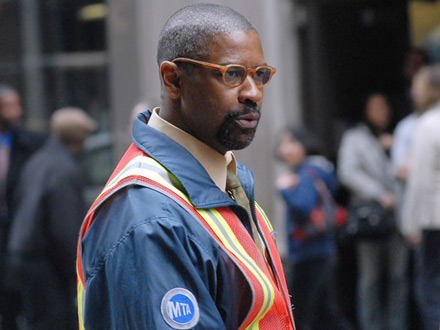 No work on Sunday. Unless your name is Denzel Washington. Yesterday, he was snapped on the set of his next movie The Taking of Pelham 123. Looking about as stylish as a fashion week model in a pair of tight toffee colored glasses and a Florida orange, neon-yellow MTA worker vest. Yeah, he's fashion week ready. <
< Joke.
The movie is actually an update of
the 1974 flick of the same name. Director Tony Scott, whose vibrant, slick, attention deficit disorder proof, style of film, joined Denzel Washington and John Travolta for this updated look at a NYC subway robbery gone wrong.
Oh yeah.. Gbenga Akinnagbe aka Chris was cast too.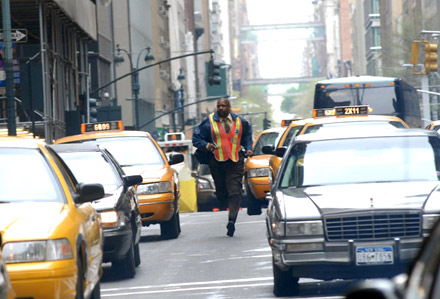 In the latest isue of Fade In, Denzel Washington was asked about this movie. You would think as an actor, he would need a reference point for what he is remaking. Not Denzel. Amazingly, he said he's never seen the original.. and I guess, doesn't plan to.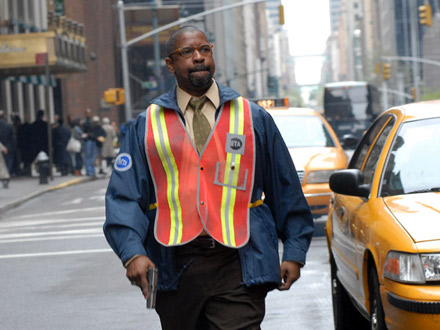 "If I mentioned Taking of Pelham 123 to my kids, they don't have a clue what it is. Tony Scott has a unique take on it. The remake part is the least of it. I just think it's a good story.. I've never seen the original. Never have. There might be those who compare, but the overwhelming majority of the moviegoing public probably never saw the original, at least not in the theater."
See what I mean?
That's like some kids, thirty years from now, remaking Friday, but haven't watched Chris Tucker and Ice Cube lean back and say.. Dammmnnnnnn. What do I know. Denzel gets paid the millions.
Here's some guy snooping around the set.
—-
Images: (Wireimage)