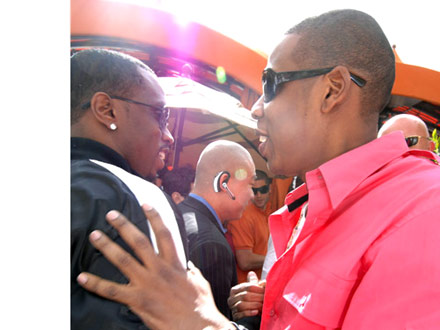 Jay-Z's American Gangster is his second post-retirement album, it also marks Diddy's return to the production booth. Through osmosis with The Hitmen, Diddy contributed six songs to the album; The Hitmen were a big part of Bad Boy's sound during its heyday.
Jay-Z and Diddy told EW how that super combo came together.
Diddy: When I heard he may make another album, I was like, ''You need to let me executive-produce that album! Even Ali had a coach. Jordan had a coach. That's what I do best!

Jay-Z: Puff gave me a call [in early September]. He's always talking about ''Let me executive-produce an album.'' And I was always like, ''Man, I'm a boss in my own right. What are you talking about?"

Diddy: We have competed with each other over the years. But I was like, ''I still want to be involved in the project.'' He told me he had the concept of blaxploitation with a contemporary sound. I said, ''I got a bunch of those [beats]."

Jay-Z: He's like, ''You gotta come by, man — I've never asked you to come by the studio ever.'' That night, I went over, and he had all these lush arrangements. I'm like, ''What are you doing with all these?' He's like, ''I don't have anyone to give 'em to.'' And that was the foundation for the sound [of the album]. I was surprised from the source — you forget that, with all the things he does, he's a producer at heart.

Diddy: After working with Biggie, Mary J. Blige, and Faith Evans, there wasn't a lot of artists who inspired me to put time in and really grind out in the studio. [But Jay and I] were just two artists in there, and the vibes just fit. He must have finished four songs in a weekend's time.
What stuck with me was Diddy's line about not having anyone to give his beats to.
He's down South messing with Yung Joc and Gorilla Zoe, for sure they aren't gonna be using any Hitmen beats. Are there really no rappers in New York? How about the original Band? Haven't heard from Babs or that Philly kid, Ness.. since the season finale.
I find it hard to believe they - especially Babs - can't come up with something.
Early freestyle anyone?