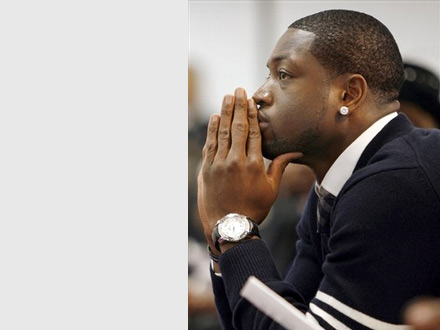 This summer Dwayne Wade will be on a heavy training regimen to get back to his superstar level on the court. Off the court, his mother, Jolinda Wade has already beat him to it.
Make that - Pastor Jolinda Wade.
Because of his mother's addiction to drugs, Dwayne Wade was raised by his older sister, Tragil Wade. His mother sold drugs, used them, and up until a few years ago, walked Chicago's streets as a fugitive.
Through the years family members tried to get her to change her ways. One Sunday in 2001, Tragil Wade was able to convince her mother to attend a church service with her. It was a day that changed Jolinda Wade's life. A light turned on within her. She went on to successfully complete a drug rehab program and turned herself in to Illinois authorities to serve a prison term she was tacked with after skipping out of a work-release program.
While in prison Jolinda started a ministry. It was an expression of how that church day had influenced her and the light of God that was now in her life. When she was released Jolinda's spiritual journey continued.
In 2004, she and a male friend, LaDell Jones, began formal ministry training. That's where she earned the title Pastor Jolinda Wade.
In October 2007, Jolinda and Ladell rented a room where they could deliver their testimony. The room was too small for the comfort of their 47 church members, so they searched and found a place for sale.
Where to get the money?
Through the rough times Dwayne Wade never lost love for his mother.
Since entering the NBA and his mother's rebirth, he bought her a car, a house, and without her asking, bought the church too.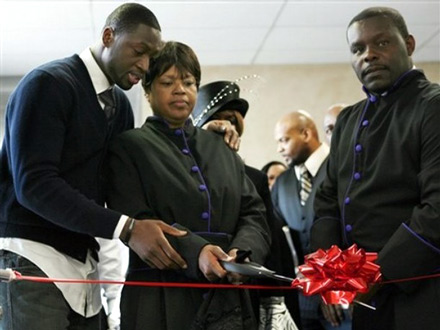 The church was christened the Temple of Praise.
On Sunday, May 18, Jolinda Wade and LaDell Jones opened the church doors for a ribbon cutting ceremony; hundreds of people were in attendance, including Shaquille O'Neal and Magic Johnson's mothers.

Dwayne Wade sat in the front row.. with tears flowing.
"This is tears of joy," he said, beaming. "Tears of joy for my mother. I respect my mother so much, from the life that she used to live and to see her today in the life that she lives. I'm so proud of her," Dwyane Wade told The Associated Press. "Everybody thinks I'm the miraculous story in the family. I think she is. I think what I've done means I've been very blessed, but she's been more than blessed. She's been anointed."
Wade's sister Tragil agreed.. "My mother is a miracle to me and to our family. To see from where she came to where she's at now. I can't even describe it. It's like, if you didn't believe in God, this right here would make the belief strong."
During the service Pastor Jolinda Wade preached..
"Today is the crossover. We're in here today because of God's goodness and God chose to use the heart of my son to do this for us ... and he trusts the heart of his mama. Ain't that something?''
No matter what you may think of religion or say how easy it is to buy a church when you have Dwayne Wade's bank account, it is his heartfelt sentiment to buy the church that makes this a great story.

"My mother is not the kind of person who will come to me and ask me for this kind of favor," Dwayne Wade said. "She's so thankful for even the little things I've done for her, but it's the dream of every man, every boy, to be able to give their mother everything they want. So that was my dream and this is her dream. To me, that makes this perfect."