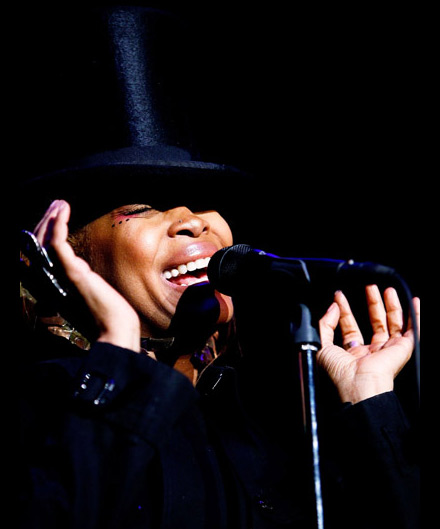 Last night, Erykah Badu brought her "Out My Mind, Just in Time" tour to Roseland in NYC. All respects to Erykah Badu, I was really there because of her opening act - Janelle Monae was on the bill. I wanted to witness Janelle Monae live. So far, ArchAndroid is the best album of the year; the fact that no one seems to be buying it is another story. Questlove was the DJ for the night. When I walked in the door, I knew I had entered a true music zone, Questlove was playing the instrumental that Double Trouble rhymes over in Wild Style. You see, I lost 97% of you already. Questlove dubbed his set "A Lesson in Hip-Hop" and he truly dug deep, cueing up endless dusty albums, blended into the songs that sampled them. I got schooled, had no idea the flute in Jay-Z's "Big Pimpin" came from an Egyptian record, but considering it was produced by Timbaland - not surprised.
Questlove kept the growing crowd buzzing for a 45 minute set. Then the lights dropped, hooded persons crept on stage, one of them spoke some carnival barker banter and Janelle Monae drifted out to "Suite II Overture", the opening track of her album, and just like the album, she cruised through the first four songs in smashing style. We're talking live instrumentation, pink and blue lights swishing across the stage and Janelle Monae animatedly twisting and dancing, completely involved in the performance. With her unique look, some people miss her real selling points - the girl's an artist and she can flat out sing.
She demonstrated that halfway through her set, the lights go out to a single spotlight, accompanied by an electric guitar player (who looked like Andre 3000), she stood on a chair to sing "Smile." Oh here it is.. someone posted the video..
Don't think this was a low-energy show. That was the take a breath moment. She followed that with what should be her next single, "Cold World," topped off with "Tightrope."
The best part was how she ended: after jumping in the crowd for some crowd surfing, Janelle Monae was lifted back to the stage and just walked off. No thank you. No see you later. The band was still playing and she just stepped. Ha. It was the best.
What about Erykah Badu?
After a 40 minute break between acts - Questlove came back out and played for 20 minutes, then we watched stage hands set up for Erykah Badu and waited another 20 minutes - the place was even more packed and excited then it was before. It was clear who the headliner was.
The first sign of life was on a screen, bizarrely showing an Erykah Badu and Lil Wayne video - yes, there were groans. Finally, Erykah Badu strolled out in a black top hat and a black raincoat. Throughout her set, she sipped tea and played musical director, pulling up songs on a Mac. What I wondered was what she was wearing underneath that coat. It looked like the obvious big costume change to come later in the show. What a letdown that was.
Erykah Badu eventually opened her coat and revealed.. yellow sweat pants with a matching top. Oh, and a nameplate. Seriously, I get her not wanting to play the sex it up for sales game, but those sweat pants looked cheap/worn, like the kind that have "PINK" spread across the ass. Didn't see clear pictures floating around, but..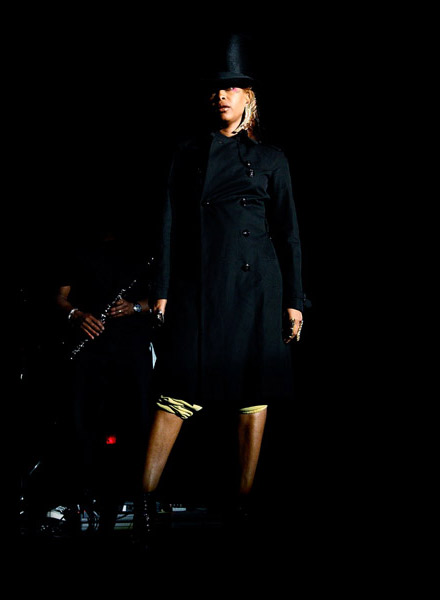 .. in this shot you see them sticking out the bottom of her raincoat.
She also had a bad moment with a drum machine. It was across from the Mac, the band is silent, and apparently, this was her moment to solo. It was some awkward, bad playing. The type of "boom boom bip" any 10 year old would do on Christmas morning. I was embarassed for her, but she wasn't and went back to it multiple times. She needs to practice. But.. the Roseland sound system is ridiculous (as in good) so there was Erykah Badu banging on the drum machine, a booming bass comes in and the band joined in for a slower, screwed version of "Window Seat." The video popped up on the screen behind Erykah and the band. The combination of thumping sound and in-the-face taking on of the so-called 'controversy' was fantastic.
As the video got close to the moment when she enters the park to disrobe, Erykah's back was to the audience. Here it comes.. and the screen blanked out. I half believed she was going to recreate the scene on stage, at least down to bra and panties, but I guess that wouldn't have been Queen-like. She smiled. Everyone cheered. It was good.
With all of my criticism, I should acknowledge, this is Erykah Badu, her positives are light years ahead of a few mistakes I'm pointing out. Like the pro she is, Erykah Badu, calmly, sang her ass off. Dipping in and out of the new and old, took it to the "Apple Tree," "On and On," "Didn't Cha Know," and literally let her hair down for a club joint I wasn't familiar with. The night was capped off with "Love of My Life."
It was a fantastic show.
There are a lot more "Out My Mind, Just in Time" tour dates. Do not hesitate to catch it if it's coming to your city.