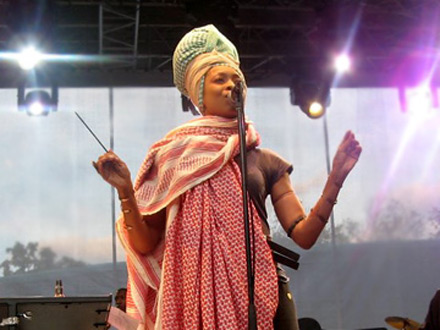 No doubt, Chrisette Michele has stepped in admirably to fill in the gap left with Jill Scott and Erykah Badu temporarily on the sidelines. Yeah, I know about Jilly's show at Radio City last week, the album is still cookin. Last night somewhere in the depths of the city, Chrisette Michele performed at her album release party.
Fader's blog team caught the show..
"Last night we trekked through the rain to see Chrisette Michele's album release party. After some grown-folks records, a quick performance by Jaiden, and a FADER shout-out from Chuck Dogg, Chrisette hit the stage with album-opener "Like A Dream." (Note: the kids love the jazz-scat.) Next came her chorus from the Nas-talgia fest "Can't Forget About You." Declaring her love and respect for Erykah Badu, Ms. Michele and her badass backing band launched into a particularly Xxplosive cover of "Bag Lady," straight into "On and On."
"Chrisette then belted out Ella Fitzgerald's "Take the A-Train" with Jaiden on backup, and finished with her own "Let's Rock." Classmates from Five Towns went nuts, drinks were spilled, parents were proud, and a good time was had by all."
Ummm, you can read my dislike of Chrisette's "Let's Rock" in the I Am review posted this morning.
That's not the point here, trackback to that Fader bit about Chrisette touching a few Erykah Badu classics. I always like when stories bump heads with each other to make one big spicy stew.
Erykah Badu has been performing at concerts and festivals across the country, and the ocean, over the past few months.
This picture is from a show in Switzerland in March 2007.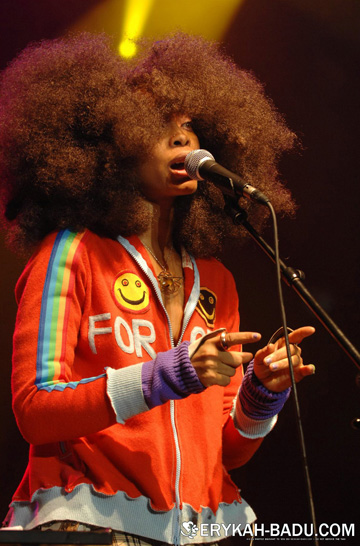 Last we spoke of Erykah Badu she was talking about buttnaked Wednesdays.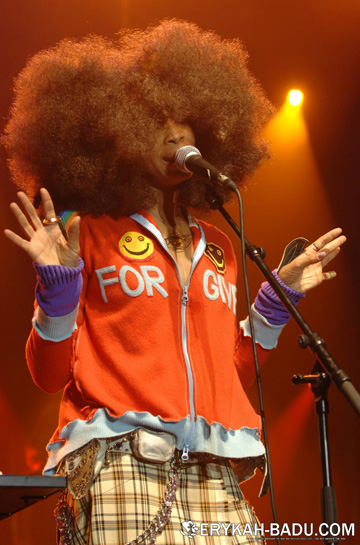 Guess she's going to continue to fight the power..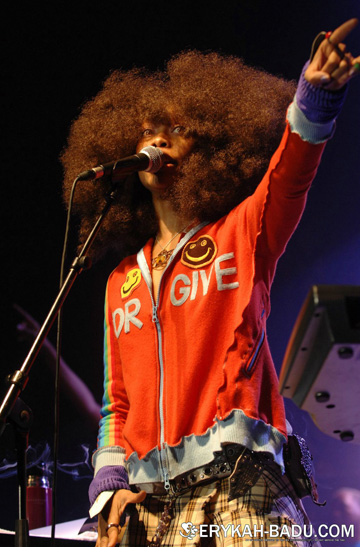 Because this look says one thing..
I C G F (I could give a f*ck)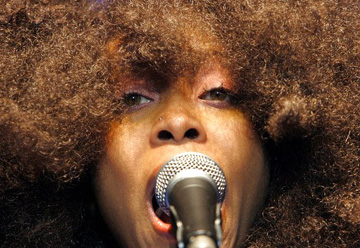 Word is Erykah Badu is working on new material that will be released in a 3 pack. Whether that means a triple disc or three separate discs remains to be seen. Details should be revealed in the coming weeks.
Right now the Badu clique is buzzing about this YouTube clip filmed from someone's trusty cellphone at a show in Moscow, Russia this month.
Word is it's a new song.. hard to tell, but I love the energy. The crowd is into it and the way she's waving that incense stick around, it looks and feels like vintage Baduizm. Bring on that three-disc opus. The game needs it.