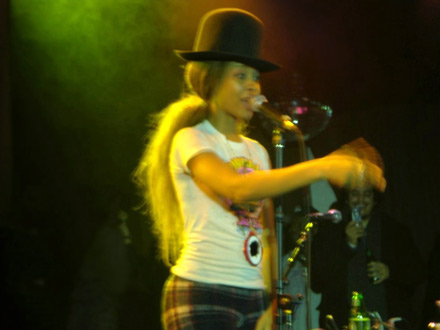 Erykah Badu is hard at work on her fourth album Nu AmErykah; here's twisted fingers on both hands that it's worth every minute of the four year wait since her last album. Now that I remember, Worldwide Underground wasn't even complete, it was a 10 track EP frontin as a full disc. Erykah owes us backtracks for that greasing.
Whatever she cranks out, it's coming at the perfect time; people are starving for substantive but entertaining music and I think Erykah might be in the entertaining mood.
Why else would she be sporting her Beyonce weave?
That picture was snapped at a show in New York last week. Gotta love her 'I could give a f*ck' getups.
The album is set for a February 26 release.
Sometime after, Erykah Badu is expanding in another direction, she's releasing a magazine. Not sure what the name is, don't know what the theme is, but she's asking for 'Badu inspired' artwork to include in the first issue.
Straight from her space.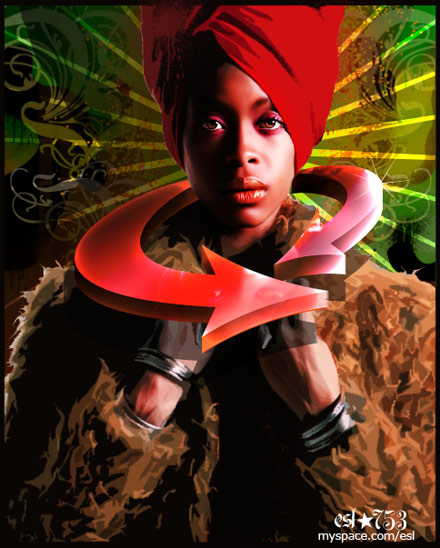 Peace and light !
i'm hype
i been up all night again in the studio…
any how,
i've been so inspired by you and your creativity .
SO im looking for amazing visual artist who dont mind sharing , 'badu inspired ' art…
please display it on my page or in box along with your contact info and title of peices.
the reaon why im , asking for badu inspired peices is because im going to share my platform with other artist by displaying some of them in my NEW MAGAZINE .. on stands 2008!!
... yes ma'am , twenty 08 is looking good for us .
i want to expose you!!
the world needs to see a 'peice' of your soul.
I WILL BE EXCEPTING PEICES FROM NOW UNTILL JANUARY 5, 2008
———————————————————————————————————————?????????
if you are contacted before or by this date you know that we will be using your peice.
however,ALL art will be displayed at some point , on my page… and is appreciated.
i will announce more details as we get closer to savior's day feb . 26, 2008 a.d.
i love you
and i dont take your love and creative energy for granted.
im sleeepy.
im looking for that art ...
love and light
??? badu

I'm going to give her a funky on purpose credit for repeatedly tripping over the when you want to say -ee- it's i before e rule. "peice" Either that or she really was sleepe. << f.o.p. 😉