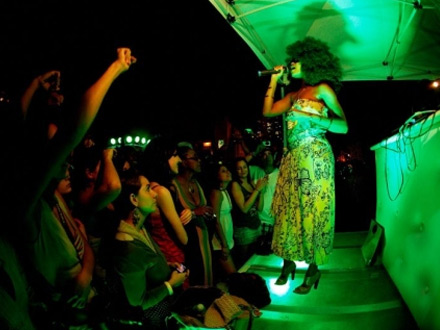 Last night, Erykah Badu was in Miami, FL. performing at Giant Steps 12th annual Sunset Soiree at the Delano hotel.
Other than the butterfly print sundress and - are those heels? - Erykah was her usual eclectic self.
ERYKAH AT THE GIANT STEP STAGE AT SS 08

"I'd like to tell you and remind you that I am your servant, anything that I have said and anything I do is in the spirit of you. I represent the artists that are often unheard. I'm talking about the singers, the dancers, the painters, the photographers, the DJs.." the.. I can't keep up.
We move on to a live scratched up performance of "Soldier."