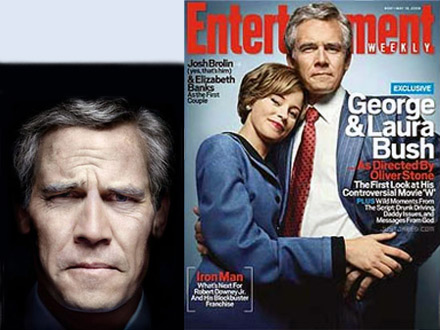 Oliver Stone is hard at work, trying to crank out this year's Farenheit 9/11. His biopic W about the soon to be ex-president, George W. Bush aka Who's Osama?, is on full press. The listed drop date is 2009, but the word is Oliver Stone is hoping to have the movie finished by this October. Just in time for the November election.
Entertainment Weekly got first dibs on a photo of George and Laura Bush (Josh Brolin [No Country for Old Men] and Elizabeth Banks [40 Year Old Virgin].) The movie will be a dramatic reenactment of key moments of Bush's presidency, but with all of the George Bush impersonations over the years on SNL, Comedy Central, etc., I find it hard to believe that anyone will take this as a serious movie.
An advance preview of the script includes such suspenseful scenes as..
".. the Commander-in-Chief nearly choking to death on a pretzel while watching football on TV and a flashback of him singing the ''Whiffenpoof'' song as a frat pledge at Yale, not to mention scenes in which he refers to his advisers by dorky nicknames — ''Guru'' for Condoleezza Rice, ''Turdblossom'' for Karl Rove, ''Balloon Foot'' for Colin Powell — while discussing plans for the invasion of Iraq with the coolness of a late-night poker game."
Yeah. This is going to be a 2 hour long comedy sketch.
No set photos yet, but..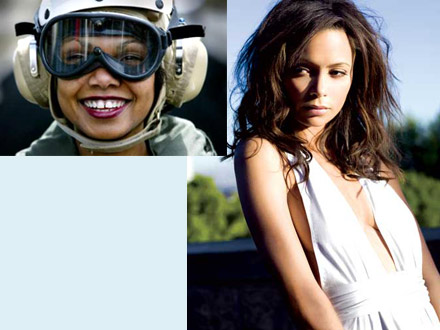 Thandie Newton is playing Condolezza Rice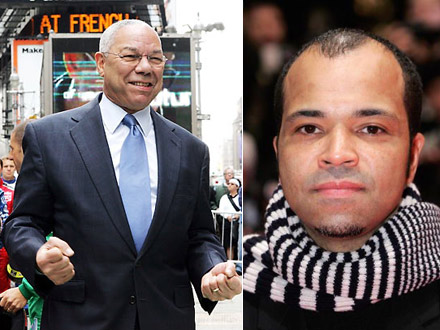 and Jeffrey Wright will be Colin Powell.
For the new folks.. here's Condoleeza Rice on a more serious and not much publicized note.