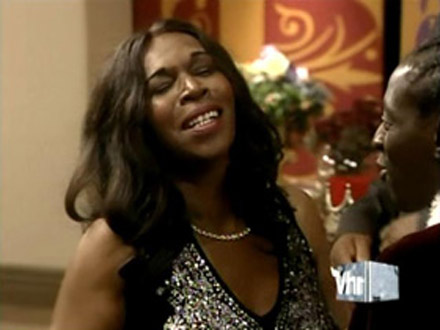 They say the apple doesn't fall far from the tree - have you heard that before (haha) - last night New York's mother demonstrated there's truth in that cliche' beyond McIntosh and Granny apples.
It was a Meet the Parents episode: Flav invited the three remaining girls (Delishis, NY, and Krazy) families to the mansion and they met his kids. The minute NY's mother stepped in the door she had attitude. Flav had to expect it, she hated him last time. But from the first foot in front of the other? Flav saw her frowning up and asked what the problem was. Momma Drama started screaming and yelling. Flav screamed back. Big Rick tried to break it up, which made her even crazier. That's when she pushed Flav back, as if to line him up for a right-cross to the jaw.
Flav threw her out the house, she left gladly, but after thinking about it, came back defiantly. She's not about to take sh*t form William Drayton (she refuses to call him Flav - always using the government.) He let her stay. She eventually apologized.
The other girls families were pretty much accepting of Flav.
New York's mother thinks her daughter can do much better than this hip-hop clown who wears gigantic clocks. New York, she said, is going to date professional, respectful men and have a career of her own.. you know the rest.
With all that talk about respect and intelligence, she's running around the house like a wild woman. Making up stories about having a disease (missed the exact wording) but after she tells NY, once again, that she isn't going to be with Flav, Momma said, "I have something to tell you.. I have…" *insert medical condition*. Which even NY said was just crazy talk.
When Flav introduced the girls to his kids, he told the kids to chat them up, see what they're about and come back with their opinion. The results: Krazy = fake; NY = too much drama; Deelishis = the best. Flav's response? "WOW!" It only took an afternoon and they came up with what was in his head already. So Flav and Deelishis's family went on the first date.
While they were out, Krazy's family decide to pop a few bottles in the living room, NY and her mother are upstairs laying down. Momma goes downstairs to tell Krazy's family they are making too much noise, which turns into a classic NY style shouting match.
The funniest/saddest part was watching New York's father try to tell his wife to calm down. The look she gave him.. was like, I know you ain't talking. All it took was a "What are you doing!" and a look .. he sat his ass down quick. Finding his balls, he tried again and she screamed to Big Rick, "somebody get him away from me." Not even talking to him. As if to say I don't want to hurt this man on TV. Dude has no balls. A tired beaten man. And I must say.. a crazy example of her mother's idea of a professional/respectful type dude.
It wasn't clear how similar NY and her mother are until NY confronted Krazy about the fight. She slept through it, so NY steps to her outside at the pool. NY asks one question and then it's all out screaming to defend her mother, but it's like she didn't even know the story.. and look.. out of nowhere NY's mother stands right next to her, mother and daughter, not a damn thing separating them except the stretch marks.
Starting from last week, New York acting like she's entitled and the 'are the cameras on' drama was starting to wear on my nerves. While Deelishis has been nothing but good vibes whenever she's onscreen. Sure she was ready to implant a curling iron into NY's skull, but that's violence with a purpose.. 😊 But nothing seems forced with Deelishis. Despite being in a whole nother weight class, she seems to have no problem with Flav being the black twizzler. Her intentions seem to be beyond the show and she got along with his kids. Her mother, with the beehive hairdo, and Pop who didn't seem sure what to think (or say), seemed to accept him too - actually her mother was really happy when Deelishis got her clock.
Rumor has it that Flav is happy with the winner of the show. That said.. I'm making the prediction that Deelishis will be that person and NY will be The Flavorette. You know, the next show VH1 is making with an unnamed contestant from Flavor of Love 2.
NY is the perfect person for that spot: getting dissed twice, with her own brand of insanity, it probably made them think of a spinoff in the first place.