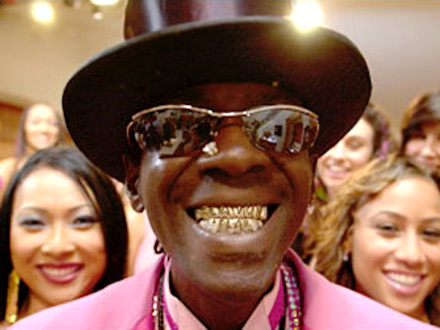 Just when you thought it was over, Flavor Flav is back for another season of love and foolishness. He said he finally found real love with Deelishis, but that just poofed into the clouds with speculation of side babies and other women coming out immediatley after the show. Apparently women can't get enough of the black licorice man.
I like to call it real pimpin'.
Had he been working the streets of Detroit with Don Magic Juan, there would have been someone else parading around with that diamond studded goblet.
The difference with this upcoming season and the rest.. you won't expect the winner to be with him past the finale. And any chick might as well trash that line ."I'm not here for TV." We all know you want to be pulled off the couch, get a couple of video and magazine appearances, even if it's just for a couple of months. Deelishis is their role model - yea, no one wants to be Hoopz.
And if they don't get picked there is always room in Charm School 2.
The Flavor is everlasting.
Good thing this all goes down on VH1 or there would be pickets and petitions all over the place. BET's Flavor of Love <
< haha. That would never be allowed to happen.
Won't even get into it..
Like New York's season 2, the casting is being handled online,
we can vote and perhaps make a difference in the decision of who gets selected.
I say perhaps because as the word gets out the wannbe flavettes are posting their pics, but at the top of the list there is this.. uh, person… Sargent Beverly.
Man? Woman?.. Definitely something special and new for Flav to feel up on set.. something like cock and balls.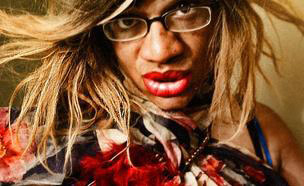 If VH1 wants trainwreck TV let that walk into Flav's living room.

Make sure to vote "her" to the top… daily.. hourly… right now.
http://flavoroflovecasting.com/people/SARGENTBEVERLY
Can't wait for the show.