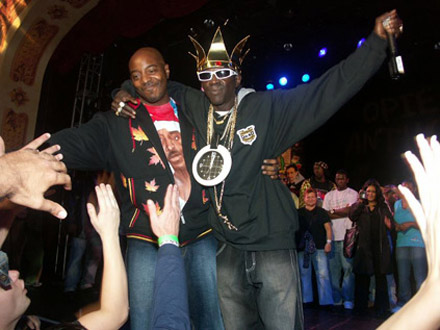 While Kanye West was overseas talking about his greatness, Flavor Flav was in New York City basking in his. This Tuesday a party was held at the Hard Rock Cafe to celebrate the release of his new album, the success of Flavor of Love 2, and to just have a good time with hip-hop's first and forever unmatched wild child.
For the occasion Flav invited old school friends like: Hank Shocklee, Grandmaster Caz, Dana Dane and Raheem from the Furious Five. New schoolers like Remy Ma were also in attendance.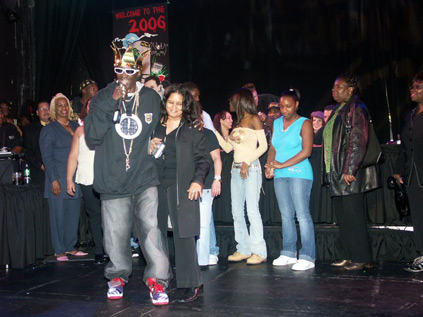 More importantly his mother, kids and extended family all drove into the city, and Chuck D, his Public Enemy compadre, stopped by to perform a song or two. It was one of the first shows Public Enemy have done in NY for years. History continues.
The problem was.. It wasn't a Flavor Flav album release party.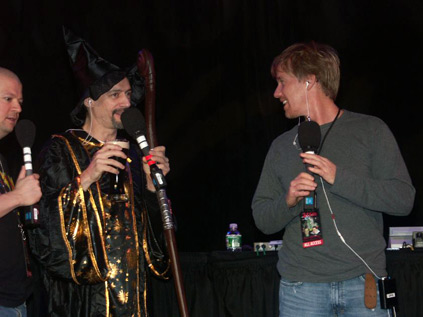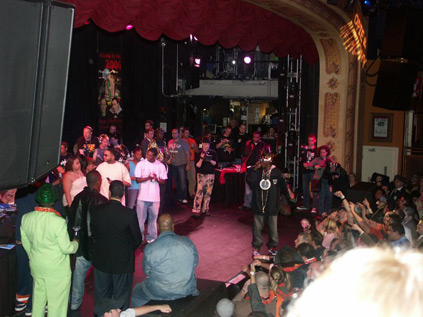 Flav slipped up and found himself on the twisted side of bizarro land. It was Opie and Anthony's Halloween bash. With his new found popularity, Opie and Anthony arranged for him to perform one song, but somehow word got back to Flav that whole celebration was all about him. So he turned that one song into 55 minutes of ramble and rap. Introducing each member of his family to the audience, people in his entourage, you know how Flav do..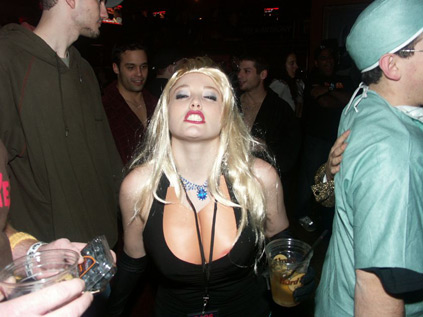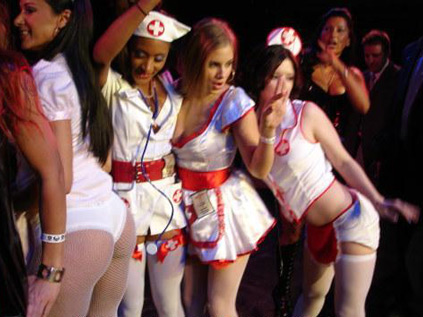 OnA's fans are a collection of freaks, misfits, outcasts and messes. All Flav needed to do was look around and see that something was wrong. There was a guy dressed in a flasher's costume with a hairy monster penis. A midget dropping his pants on stage showing his 'vagina' aka tuck the dick between the legs.. big laughs. There were nurses bobbing for dildos.. instead of apples.. come on this is fun stuff.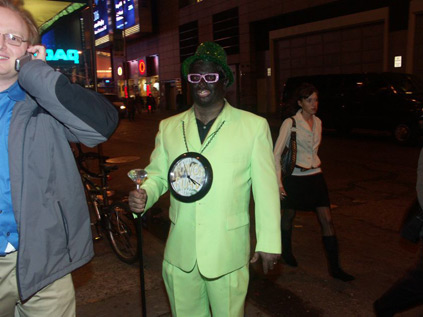 Then there was the guy in black face, dressed as Flavor Flav. Nice costume, funny thing (or not) is this guy really is a racist and his wife likes to bang black guys. True stuff.
Opie didn't dress (grey t-shirt up top), but Anthony had on his wizard's costume.
These and the rest of the regular booze hounds, 99.9% white, are the people Flav's performing for at his 'album release party.' It's true that Public Enemy has a huge white fan base, but looking around nothing clicked in his head that they weren't all there for Flavor Flav?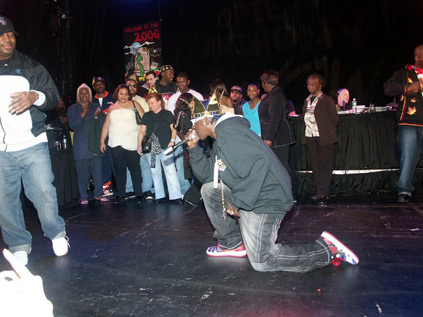 Check the picture above. Flav ran on stage right in the middle of it. Completely oblivious to what was going on. OnA were like, 'what is he doing out here?' Opie thought maybe he wanted to say hi before performing his one song, so they let him talk and talk and talk.
They were scared to tell him to leave.. but let it all out on their show the next day.
Only audio does this justice.
Flav's performance with Chuck D
The Rant Parts 1 and 2