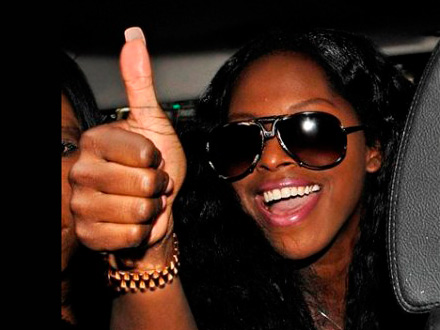 Foxy Brown was cruising through Bergen County, NJ last Wednesday when police pulled her over for failing to stop at a stop sign and talking on her cellphone. When police checked the registration on her SUV - ding!- it was suspended. The cops said they asked Foxy what her name was and she decided to give them a variation of her real name and a birth date that was one year off.
Now lets assume the cops asked for her drivers license first, because that's the first thing they do - you know, after asking if there are drugs in the car. 😛
They took the name and birth date given, popped it in the computer, and the search turned up nothing. They asked her again, this time she gave them the right information.
Turns out not only was her SUV's registration suspended, so was her drivers license.
Straight up riding dirty.
The officers took her to the station and wrote her seven tickets. I only count four offenses - cellphone, stop sign, suspended registration and license - I'm guessing at least two of the remaining tickets were for being stupid enough to give a fake name, knowing all too well that she picks up misdemeanors at least once a month.
You're in the system, girl.
Foxy Brown may have lost her hearing by some freak of biological randomness, but over the last two years she's dumped her rap career on her own. That's completely certified and past tense.
She has said that any publicity is good publicity, keep em' talking. But when you're slapping around 65 pound Korean nail workers, getting jumped by a pimp's broke project pussy patrol, and clanging neighbors over the head with cellphones like you haven't heard of Naomi's orange vest punishment.. that's called becoming the punchline.