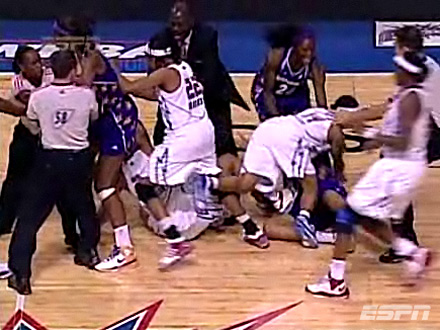 In tonight's matchup between the Los Angeles Sparks and the Detroit Shock, LA's Candace Parker got into it with Detroit's Plenette Pierson.
WNBA Brawl - Detroit Shock vs. Los Angeles Sparks
During the closing seconds of the game, Pierson gave Parker a hard hip-check at the free throw line. They got tied up and both fell to the floor. Pierson got up first and ran over to Parker to get something started; Parker pulled her back down to the court.
Another player jumped on Parker, but this 'brawl' looks like their teammates were trying to break them up. The most fury came from a Shock player being held back by her teammates.
Rick Mahorn, Detroit's assistant coach, will have to explain why he shoved Lisa Leslie to the floor, but this was far from the all out, in the stands, stadium throwdown the Detroit Pistons and the Indiana Pacers gifted to the world.
No hair pulling, no jerseys pulled off.. You call this a girl fight?