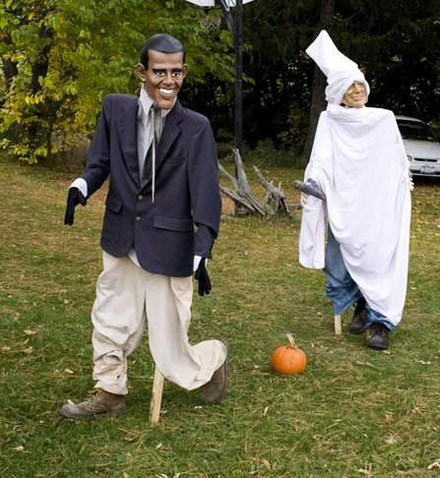 Heading into tonight's debate, Barack Obama is ahead on just about everyone's scorecard. It's not just the economy that's hurting John McCain, it's the attacks on Barack's character and supposed nefarious associations.
One poll asking which candidate was running a negative campaign saw John McCain get a heavy 62% affirmation. To voice his displeasure with the McCain campaign, Richie Havens, in Odessa, New York, set up a Halloween display in his front yard showing Barack Obama running from John McCain in a Klan robe. Of course, some people are questioning his motives.
Havens explains..
"I figured it would be equally offensive to everyone. It's just for shock value. McCain has been rabble-rousing, calling Obama a terrorist and a Muslim. The McCain campaign has gotten so ugly. That's what the message is. I can see how people could take this the wrong way. I'm not advocating anything. It's sarcasm."
Havens points out that he's a Barack Obama supporter and the past few years he's featured a rotating cast of political characters on his lawn.
Two years ago, Havens set up a display with a Wizard of Oz theme, with President Bush as the Scarecrow, Secretary of State Condoleezza Rice as Dorothy, Vice President Dick Cheney as the Tin Man and former Secretary of Defense Donald Rumsfeld representing the Cowardly Lion.
During the 2004 presidential race between Bush and Massachusetts Sen. John Kerry, Bush took on the persona of Dracula in Havens' front lawn, while Kerry appeared as Frankenstein's monster, complete with neck bolts.
What I don't like is it makes Obama look like a victim. For sure, the anger from people at McCain's rallys is coming from a frustrated and ignorant place, but none of that is changing the election in his favor. Those people are turning folks in Barack's direction. Add in the outright lies, exaggerations, and misinformation, and you have a campaign that is representative of the worst America has to offer.
John McCain is actually hurting himself.
I would have rather seen Barack in the Super Obama suit.
He's flying high.
But get out and vote on Nov 4. Anything can happen!