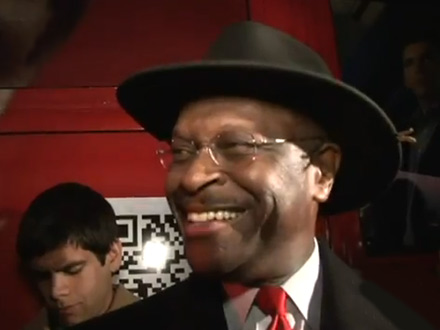 Yesterday, Herman Cain got his wish, the subject changed; reporters moved on from questions about sexual harassment allegations and poked him for explanations about his now infamous, one minute fumble when asked if he agreed with President Obama's handling of Libya. At the one minute mark Cain answered the question with another question.
"Specifically, what are you asking?"
The subject of jokes from coast to coast, Herman Cain tried to get in on the laughter, "I paused to gather my thoughts. It was a pause. That's all it was, good grief." Cain also said he was asked a bunch of questions and then, "someone asks you about Libya." As if that's a trick question; he's running for President of the United States and he doesn't have a preformed opinion on Libya?
Regardless, Herman Cain is still in the minds of wacky Republican voters. If he does grab the nomination, I say he tags this guy (dc3lover) as his VP candidate.
He's the man for the job.