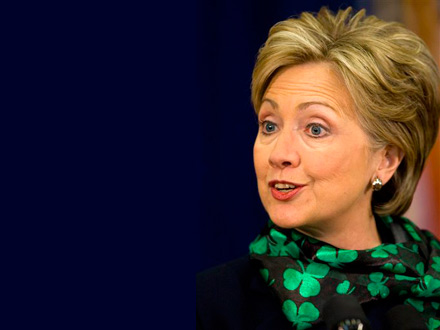 This afternoon, while speaking to the editorial board of South Dakota's Sioux Falls Argus-Leader, Hillary Clinton was asked why she is still in the race; by everyone's math, she can't win.
I think with three primaries left, let Hillary Clinton finish off her campaign, for her supporters and her legacy; if she wants to spend that time and money.
Hillary Clinton had a better reason. She thinks something big could happen that would change her chances - like an assassination.
"My husband did not wrap up the nomination in 1992 until he won the California primary, somewhere in the middle of June. Right? We all remember Bobby Kennedy was assassinated in June in California. I don't understand it."
She doesn't understand it. Well now you do; she is staying in the race because, hey, Barack Obama might be killed.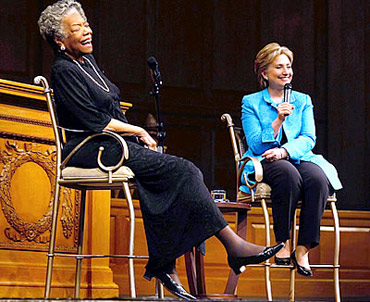 All of these Hillary Clinton supporters think she's a kind, thoughtful person; someone who cares about them; ready to be there for the nation in case of a tragedy.
Yeah, she is kind and thoughtful.
Showing just how much so, Hillary Clinton quickly apologized.
To the Kennedys!
"Earlier today I was discussing the democratic primary history and in the course of that discussion mentioned the campaigns that both my husband and Senator Kennedy waged in California in June in 1992 and 1968. And I was referencing those to make the point that we have had nomination primary contests that go into June that's a historic fact.
The Kennedy's have been much on my mind for the last few days because of Senator Kennedy.
I regret that if my referencing that moment of trauma for our entire nation - particularly for that family - was in any way offensive. I certainly had no intention of that whatsoever.
My view is that we have to look to the past and to our leaders who have inspired us and give us a lot to live up to and I'm honored to hold Senator Kennedy's seat in the United States Senate in the state of New York. And have the highest regard for the entire Kennedy family."
Yeah, so she apologized to the Kennedy family.
Not to Barack Obama for her bad reference and taste in thinking, you might be killed, so I'm gonna hang around.
Even more bizarre is how a lot of cable news talking heads are blowing this off and continuing to push the idea that Barack Obama needs her in the VP spot.
Unless Barack Obama plans to have food tasters nibble on every burger before he eats; checks toilet bowls for poisonous snakes; or plans to run zig-zags at top speed when boarding Air Force One, each and every flight, without fail; Barack best pick a vice-president who isn't thinking about their chances of moving into his office when he is perhaps.. shot in the head.
Sorry to the families of all the slain leaders. Not you Barack.
That's what she said!