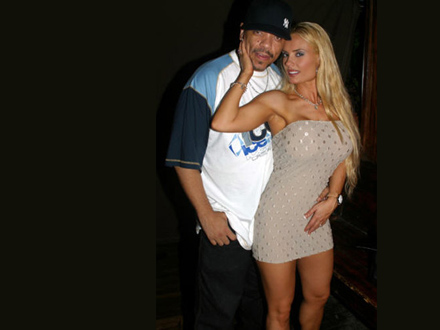 I'm pretty sure you've seen the cover of Ice-T's new album. "Gangsta Rap." If anyone's actually heard it.. now that's the one in a million question. The album was in stores yesterday, pretty sure you won't find it in Walmart with the 'big controversy.' In a last minute MSNBC interview Ice-T spoke on his critics' blurry vision.. "It's not pornography, it's sexy. It's part John Lennon and Yoko Ono. It was art when they did it and its where everybody wants to be—laid up in bed."
Thank God He didn't copy them pose for pose. No one wants to see Ice-T in this freakish pose.
Coco said she loved the picture because.. well.. it's her husband, "It's not just some other guy I am posing with."
Ice-T parading his women in front of the cameras, ass out, tits forward, is nothing new. He's done it for most of his 48 years. Some people call it his pimp/ho relationships. That would be disrespectful to the genius which is Tracy Marrow.. [half-joking].
I did a little quote/pic montage a while back in the click page where he breaks down The Ice Opinion: Men, Women, and Sex.
"Give a woman a reason to like you. Wash your ass!"
Sounds sensible. No? :T
He wraps this up in the interview..
"I'm not going to flatter myself. But this is my wife, it's not a model and it's not fabricated. If you snuck into our bedroom tomorrow morning you could get a picture just like that."