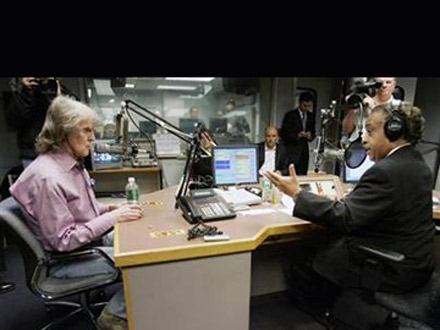 The non-story story of the day is Don Imus calling the Rutger women's basketball team.. nappy headed hos. Al Sharpton says he should be fired for it, and the globe keeps spinning.
The sad part is seeing how riled up black commentators are: Jesse Jackson scribbling markers on a sign for his 'fire him' picketing session on Friday, 'experts' saying they've never heard his show.. but they're outraged too, claims that these girls lives are somehow shattered.
This for a comment made in the context of humor. A 30 second back and forth that while wasn't in good taste, did not affect anyone in a way that their lives changed.
Who listens to or watches Don Imus in the first place?
Large black audience.. yeah, OK.
The comment was made last Wednesday, it had to travel through the grapevine for people's feelings to get hurt.
Which let's be honest - didn't happen.
Imus [and the guy on the phone] basically said one team had a bunch of Halle Berrys and the other team.. looked like men.. those some, uh, nappy headed hos
It really is a bad comment.
But it's the type of joke made by black comedians all the time, tossed around in comment sections every day. Along with calling white women stringy-haired, skinny hos, trailer trash, snow bunnies and all the rest.. I think I even called Eve's "friend' a vanilla homie.
It always amazes me how black comedians feel free to get on stage.. and it's dem white boys this and that, but as soon as a white person throws a line back.. what up my nigga.. in a comedy sketch or during a talk show.. somehow the black community is supposed to be outraged.
It's that old Paul Mooney line - everyone laughs until the joke is about them.
Which may seem like he contradicted himself when he spoke out about the Michael Richards incident, but that was clearly NOT a joke. That was an angry, hate-filled rant. Not a joke he practiced in the mirror for weeks.
But here's the thing.
We all know people have little racist things they pick up at home, and even say freely when they get around people of their own kind.. sometimes in the public those jokes and comments slip out.
As long as it's not an ongoing thing and there is no evidence that the person allows that to affect how they make business decisions, hire people, or interact with others.. then let it go.
Yes. Imus needs to be slapped with a citation, in the same way as if he said fuck boy on national "talk" TV. You point the finger at him.. "Hey.. I heard that, mufucka!"
And carry on.
Not let's take his radio show off the air, cancel his TV show too, like it's The Klan Network spitting hatred on the daily.
This guy has been on the air for nearly 30 years.
Never has Sharpton had to jump on the table.
Outrage over the Sean Bell incident? That's warranted. The cops should lose their jobs at minimum.
And I was happy when Sharpton spoke out about Yayo allegedly slapping that 14-year-old kid.
Speaking out is Sharpton's unofficial job description.
He had to say something just to 'check' this. Make sure it doesn't become a comfortable, accepted thing.
And because it's Sharpton, TV runs with it, black media.. all over it.
I just hate to hear the passionate debate and attention over a dumb comment, but when there are more pressing things involved there are 4-5 people at the voting booths.
Believe me Imus has suffered for his comment .. the way this guy is groveling for forgiveness and getting his ass toasted all over the place.. he's gonna have a hard enough time looking his guests and friends in the face the next few weeks.