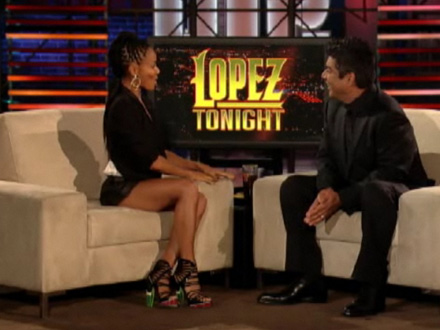 These past few weeks, Jada Pinkett-Smith has been on the media/talk show circuit in support of Jaden and The Karate Kid. On Monday, she was on The George Lopez Show. They talked about Jaden's acting and how she protected him on the set of The Karate Kid. Willow's mohawk was a part of the conversation too. On an earlier David Letterman appearance, Jada simply said Willow's hair was completely her thing. Explaining that she and Will allow Willow to be a free spirit. With George Lopez, Jada got into it a little more. If you thought Willow was channelling Rihanna, or by chance, Janelle Monae, you'd be wrong. Jada said Willow's inspiraton was .. her grandmother.
"I'm lucky that's all she shaved, because my mother's hair is that length (short) and of course, I had my hair that length when I was pregnant with Jaden, and it was blond. So she decided, 'I want my hair like my grandmother's.' I said, 'Willow, grandma has no hair.' I said, 'you have to have some hair.' So she said, 'Mom, I'm really tired of the hair. I just really feel I'd like it to get in the pool. I want it to swim. I just don't want to be bothered with the hair.' So we got permission from Will to finally just let her shave her sides."
She also talked about Willow's as yet untitled, or produced, but sure to be, album.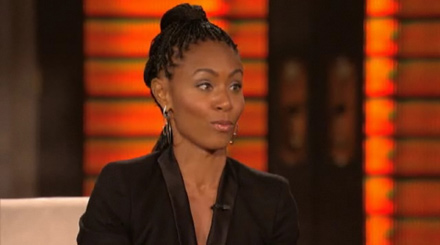 "Let me tell you, she's 9 years old. I don't know where that voice came from. She sings like she's a grown woman. Like she's been around. I'm like, 'where does all that experience in your voice come from?' I have no idea, but she's something. Music is her thing."
Lastly, Jada talked about her Essence cover, as you may know, it is subtitled, "Why I did this for my daughter." Jada talked about her snap decision to go nude for the photoshoot and then showing it to Will and later to Willow.
Willow's opinion?
"Mom, you look so elegant."
I've said enough. Get you some.